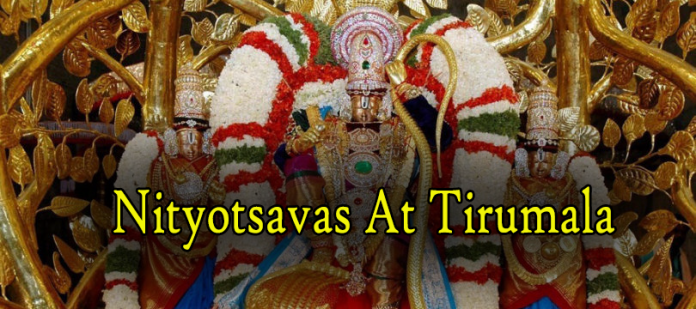 Consistently a few sevas and utsavas are held for the Lord in Tirumala appropriate from early morning till night. Give us a chance to talk about them in short.
1. Suprabhatham (Waking up the Lord).
2. Tomala Seva (Garlanding Service).
3. Koluvu (Court).
4. Sahasra Namaarchana (Worship with thousand divine names of the Lord).
5. Offering of Food (Nivedana).
6. Shattumora.
7. Kalyanotsavam (Marriage ceremony).
8. Dolotsava (Swing ceremony).
9. Arjitha Brahmotsava.
10. Arjitha Vasantotsava.
11. Sahasra Deepalankarana Seva (Service with thousand lamps).
12. Ekantha Seva.
And Also Check – SEVAS IN TIRUMALA