Venkateswara Temple is a landmark Vaishnavite temple situated in the hill town of Tirumala at Tirupati in Chittoor district of Andhra Pradesh, India. The Temple is dedicated to Lord Sri Venkateswara, an incarnation of Vishnu, who is believed to have appeared here to save mankind from trials and troubles of Kali Yuga. Hence the place has also got the name Kaliyuga Vaikuntham and Lord here is referred to as Kaliyuga Prathyaksha Daivam. The temple is also known by other names like Tirumala Temple, Tirupati Temple, Tirupati Balaji Temple. Lord Venkateswara is known by many other names: Balaji, Govinda, and Srinivasa.
Tirumala Tirupati History Details
Srimad-Bhagavatam describes the history of Tirumala that during Satya yuga, Hiranyaksha, due to his exploitative activities created a situation where the earth was drowned to the bottom of the Garbhodaka ocean. At that time, the demigods approached Lord Brahma who prayed to Lord Vishnu.Lord Vishnu then appeared from the nose of Brahma in the form of Sri Varahadev. He killed Hiryanaksha and lifted the earth, 'Bhudevi' with His tusks, and brought her to a safe position on top of the Garbhodaka ocean.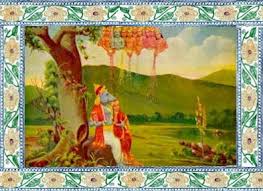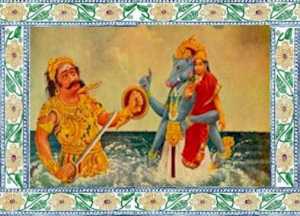 Bhudevi, the goddess of the earth, being an expansion of Goddess Laxmi was very much pleased to be reunited with Her Lord, Her eternal consort in the form of Sri Varahadev. In Vaikuntha 'BhuVaraha'resideseternally, so Bhudevi, who is the goddess of this earth, pleaded Lord Varahadev to remain with Her on this earth planet. Sri Varahadev decided to satisfy her desire and called for Garuda to fly to Vaikuntha and bring one of His favourite mountains down to the earth, so that He and Bhudevi could reside here together on that mountain. That mountain was brought down, and it is today called 'Tirumala'. It is the mountain that was carried from Vaikuntha by Garuda himself.
There is also a story of Sesa, the divine expansion of the Lord who sometimes appears as His couch,sometimes as His bed, and sometimes as His slippers, the same Adisesha incarnated on this earth asthe seven hills in which Tirumala is situated. Therefore the seven hills are called Seshadari. Knowing that the Supreme Lord would come to live on these hills, Sesha wanted to be there to support Hisdivine pastimes.
As the narration continues, Narada Muni once approached great sages who performed yagna. Narada Muni enquired from them, "To whom are you offering the fruits of yagna? Of all the devathas or demigods, who is the greatest?" Some rishis considered Brahma to be the greatest of the gods, some considered Vishnu, and some considered Siva to be the greatest. In an intriguing dialogue that followed among them, to decide who is the greatest, they all concluded that the greatest of the persons must be one, who is completely transcendental to the modes of material nature. Thus they all unanimously elected Bhruga Muni to test these guna avatars, to see the greatest of the three.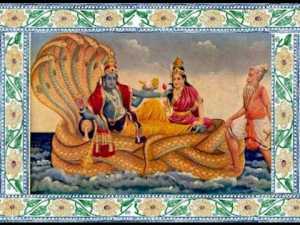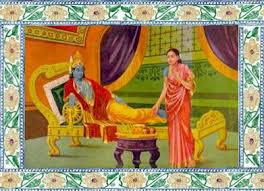 Bhruga rishi first went to the abode of Brahma. Brahma, the father was very happy to see his son, Bhruga Muni. But Bhruga Muni did not say anything to honor his father. In fact he outright ignored him. When Brahma understood that his son was completely breaching all etiquette and basic human manners, he became very angry. Still, somehow or other he contained his anger and didn't say anything. But Bhruga Muni noticed that his father was very angry, and he left the place. Lord Brahma had failed the test, being come under the influence of anger.
Then Bhruga Muni went to mount Kailash where Lord Siva sat with Mother Paravati. When Siva, Bhruga Muni's elder brother, saw his younger brother, he came up saying, "Oh, Bhruga , I am so happy to see you. Welcome to Kailash." He came to embrace Bhruga Muni but Bhruga Muni stopped him saying, "Get away from me. Don't touch me. You smell terrible. You have ashes from dead bodies smeared all over your body. You wear skulls as garlands. You associate with ghosts and untouchables. If you were to touch me, I would have to immediately take bath in the Ganges, just to purify myself from the intense contamination.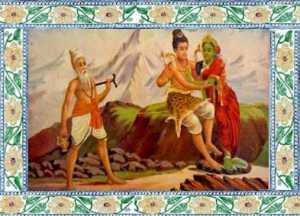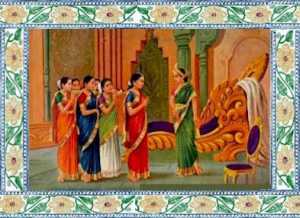 Lord Siva, upon hearing Bhrgu's insulting words became very angry. He picked up his trident and was about to punish Bhrgu when Paravati intervened and said, "No, my Lord, he is your brother." Lord Siva then cooled himself down and Bhrgu Muni left the place. Even Lord Siva had failed the test.
Vishnu began to very gently massage the lotus feet of Bhrgu Muni, who being so
treated began to weep, and tears flowed from his eyes as he spoke "You are the Supreme Personality of Godhead. You are completely transcendental to the modes of material nature. You are all merciful,all compassionate even to an offender like me, please forgive me." According to Sri Caitanya Bhagvat, after begging forgiveness, Bhrgu Muni seeing the qualities of Lord Vishnu, began to dance in ecstasy. He danced and wept and cried as his hairs stood on end and he went on loudly chanting theholy names Hare Krishna Hare Krishna Krishna Krishna Hare Hare, Hare Rama Hare Rama Rama Rama Hare Hare. Bhruga Muni then blissfully returned to all the sages and narrated his report. Everyone from that day on wards consistently worshiped Lord Vishnu by constantly hearing His glories and chanting His Holy Names. Everything was blissful, but Laxmi devi felt very depressed and angry. Although Lord Vishnu had tolerated the offence committed by Bhruga Muni with a very gracious heart, Laxmi devi being a chaste and faithful wife, could not tolerate the offence that was done to her husband. She said to Lord Narayana,"You may forgive this person for that is your nature.
But I have seen this Brahmana whimsically kicking You right in the chest. And because I have seen this abominable act, I have incurred a very heavy unforgivable sin and the sin of witnessing You accepting this offence is so great that I cannot live here any longer. I must go away from here. I must perform severe penances in order to wash away the sin that was incurred by my seeing this offence to You.
Magnificent Tirumala Hills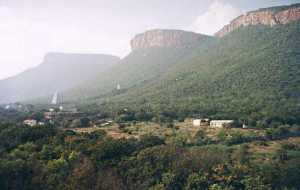 The 27 square kilometers long Tirumala Hill comprises of seven peaks. These peaks represent the seven heads of Adisesha. The peaks are Seshadri, Garudadri, Anjanadri, Neeladri, Vrushabhadri, Venkatadri and Narayanadri.
The Seven Hills Of Tirumala
1) Vrushabadri, Hill of Nandi, the vahana of Lord Shiva.
2) Anjanadri,Hill of Lord Hanuman.
3) Neeladri, Hill of Neela Devi.
4) Garudadri, Hill of Garuda, the vahana of Lord Vishnu.
5) Seshadri,Hill of Sesha, the dasa of Lord Vishnu.
6) Naraynadri,Hill of Narayana (Vishnu).
7) Venkatadri,Hill of Lord Venkateswara.
In Tamil, the Tirumala hills is called the Nedion Kunram where Nedion means "Vishnu" and Kuram means "Hill". It is a part of the munt Meru where the Adi Varaha decided to reside to help people of the Earth attain salvation. It is the main idea of helping people who are failing to initiate realization of the God through Karma Yoga, Bhakti Yoga or Dhyana Yoga. Tirumala Hills came from Vishnu's to the Earth by mount Garuda. The seven hills or the seven peaks are believed to be the seven heads of Adisesha (nagraja, i.e, king of all nagas where Adisesha uncoils to move time forward to the future). Men usually wear Dhotis and women Sarees. The practice of tonsure and using Tilaka are major practices in Tirumala Tirupati.
The Tirumala ranges show the face of Lord Balaji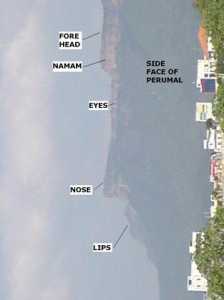 Located 1 kilometers north of the Temple; the natural arch in the Tirumala Hills is an astonishing geological wonder. It is also known as Silathoranam in Telugu, where 'Sila' means rock and 'thoranam' means an arch. The arch is 8 meters in width and 3 meters in height.
Tirupati Laddu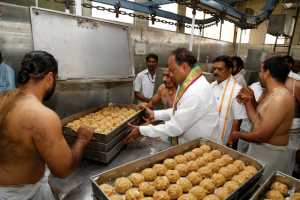 The renowned sweet, Tirupati Laddu which is enriched with dried fruits and also nuts is a registered Geographical Indicator (GI). Around 1, 75,000 laddus are prepared daily in the holy kitchen of the temple serving millions of devotees.
Facilities At Tirupati
Marriages are also performed at the Tirupati Temple in the name of the Lord ensuring peace and harmony in a married life. There are thousands of Mandaps in Tirupathi, Shubham Convention Centre, PMR Convention, OrgEve, Vorla LaxmaReddy Convention Hall, Greenhouse Function Hall to name a few.
Tirumala Tirupati Devasthanam(TTD)
Formed in 1930, the Tirumala Tirupati Devasthanam manages the routine affairs of the temples. It also looks at all the charitable activities of the temple.Subsequently, in 1932 the management of the Temple was handed over to when Tirumala Tirupati Devasthanams (TTD), a non-profit organisation that was established to protect this important religious heritage. The TTD runs various charitable trusts with the proceeds from the pilgrims.
Even Mr. K. Radhakrishnan, the former ISRO chairman had visited the temple to take the divine blessings of the Lord Balaji before every satellite launch.
About Temple
Tirumala Hills are part of Seshachalam Hills range. The hills are 853 metres (2,799 ft) above sea level. The Hills comprises seven peaks, representing the seven heads of Adisesha. The temple lies on the seventh peak -Venkatadri, on the southern banks of Sri Swami Pushkarini, a holy water tank. Hence the temple is also referred to as "Temple of Seven Hills". Tirumala town covers about 10.33 sq mi (26.75 km) in area.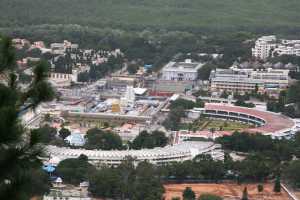 The Temple is constructed in Dravidian architecture and is believed to be constructed over a period of time starting from 300 AD. The Garbagriha (Sanctum Sanctorum) is called AnandaNilayam. The presiding deity, Venkateswara, is in standing posture and faces east in Garbha griha. The temple follows Vaikhanasa Agama tradition of worship. The temple is one of the eight Vishnu Swayambhu Kshetras and is listed as 106th and the last earthly Divya Desam. The Temple premises had two modern Queue complex buildings to organize the pilgrim rush, Tarigonda Vengamamba Annaprasadam complex for free meals to Pilgrims, hair tonsure buildings and a number of pilgrim lodging sites.
It is the richest temple in the world in terms of donations received and wealth.The temple is visited by about 50,000 to 100,000 pilgrims daily (30 to 40 million people annually on average), while on special occasions and festivals, like the annual Brahmotsavam, the number of pilgrims shoots up to 500,000, making it the most-visited holy place in the world. In 2016, it was reported that 27.3 million pilgrims visited the temple.
And also check – Special Entry Darshan