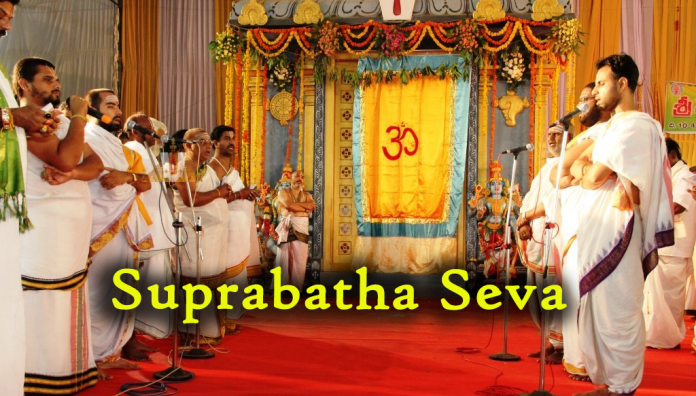 Suprabhata seva Reporting Times 2:00 AM Daily at VQC-1 and will be performed from 03:00 – 04:00 AM.
A relative from Tallapaka Annacharya sings a couple of the Sankeerthanas. Sri Venkateswara Swamy Suprabhata Seva comprises of 4 stages with 70 Slokas altogether.
Prapatti (Surrender to the lord) comprising of 16 stanzas.
Stotra comprising of 11 Slokas, songs of the lord.
Suprabhatham, waking the lord from the rest. Recounting 29 Slokas.
Mangalasnana, a prayer of the Lord's glory, consisting of 14 stanzas.
However after archana some arjitha sevas are also performed to the processional deity of Lord Venkateswara, also popularly known as "Malayappa Swamy" includes, Kalyanotsavam, Arjita Brahmotsavam, Dolotsavam, Vasantotsavam and Sahasra Deepalankara seva.
The Suprabhatham will be sung before the Bangaru Vakili after which the Bhoga Srinivasa Murthy who was laid to bed in the Sayana Mantap will be shifted again to Garbha Griha. Later Navanitha Harathi will be offered to the Lord and a mixture of Cow's milk, butter and sugar will be offered to the Lord. This Prasad will be later offered to the devotees.
Gathering Point
Devotees should gather at VQC-I.
Suprabatha Seva Timings
Suprabatha Seva will be performed from 03:00 – 04:00 AM. Devotees should gather one hour before the Seva time at VQC-I.
Booking
Suprabatha Seva Ticket cost is Rs.120.
Max of 2 Persons can book in a single ticket.
Only one Seva ticket booking will be allowed with in 6 months. Suprabatha Seva can be booked online.
Important Information to the Pilgrims:
1. The reporting point for availing Seva is at VQC-1, Tirumala.
2. At the time of entry, the pilgrim shall produce the same original Photo ID used during booking. Age proof shall be produced for children
below 12 years to gain entry free of cost.
3. The pilgrims shall wear Traditional Dress only. Male: Dhoti, Shirt Female: Saree / Half Saree / Chudidar with Dupatta. Grihasthas should
wear dhoti and upper cloth for Kalyanotsavam which involve Sankalpam.
4. All the Pilgrims in group tickets have to report together.
5. Entry with chappals/shoes is not permitted into the queue lines, mada streets and Temple.
6. The pilgrims should not carry any luggage/cell phones/electronic gadgets while reporting.
7. All bookings are FINAL: Postponement/advancement/cancellation/refund is not allowed.
8. TTD reserves the right of cancellation of the Seva under any Special Circumstances.
9. Please contact our 24/7 help desk for queries at 1 800 425 333333 and 1 800 425 4141.