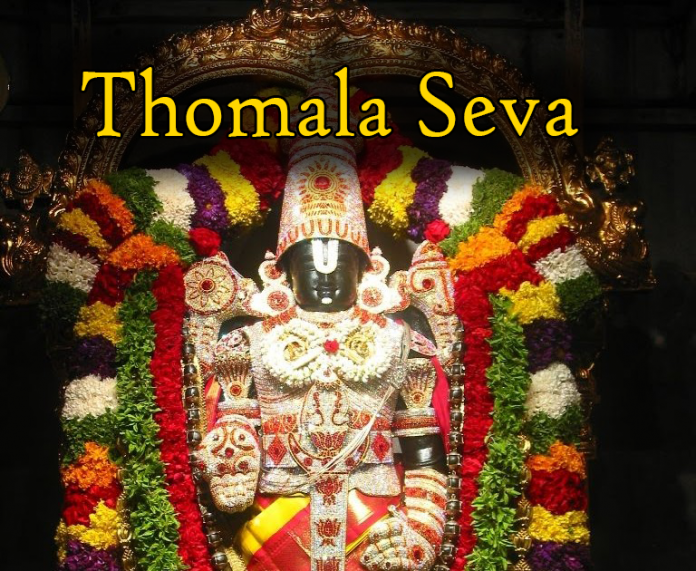 The word Thomala means a garland of flowers.This is the seva wherein Lord venkateswara is adorned with all types of flowers. The pushpa kainkaryam done to Lord Srinivasa by Pradhana archaka.
The blossom laurels are made into a few pieces and each piece being of a specific size to be embellished to the separate zones to improve the Divine magnificence of Lord in a staggering way.
This seva goes on for around 30 minutes. This arjitha seva is performed just on Tuesdays, Wednesdays and Thursdays while in Ekantham(pilgrims are not allowed)during whatever is left of the week.Most of the Sevas require the pilgrims to adhere to traditional dressing norms: dhoti around the waist and uttariya(upper cloth) on the shoulder for men and saree salwar for women.
Gathering Point
Devotees should gather at VQC-I .
Only one person per ticket will be allowed.
Online booking
Online registrations allowed from 11:00 AM IST on First friday every month.
Thomala Seva can be booked online.
Seva Timings and Entry Fee
| | |
| --- | --- |
| Day of Seva | Tue-Wed-Thu |
| Reporting Time | 3.00AM |
| Seva Time | 3.30AM |
| Price of a Ticket | 220Rs |
| No. of Persons Permitted | Only one person(1) |
| Prasadam | 2 Small Laddu |
For any info required on Thomala Seva, please leave your comments below. We will get back to you at the earliest.