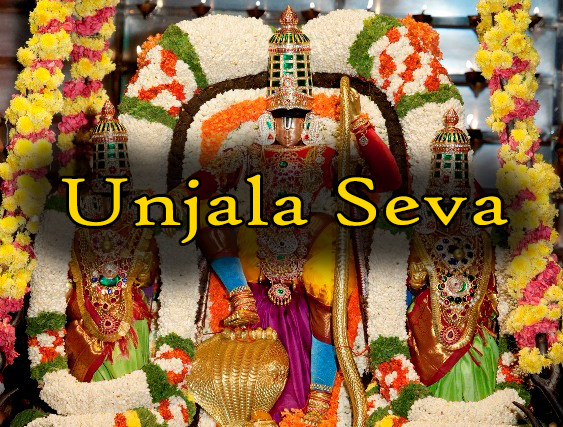 This is one of daily seva's of tirumala also called as Unjal Seva. Unjal means "Swing". The idols of Sri Malayappa Swamy along with Sridevi and Bhudevi are seated in a swing. The entire area is lit with Lamps. During Dolotsavam ritual, the priests chant Vedas to the accompaniment of the Mangala Vadhyam or the Sacred musical Instruments.
Sri Malayappaswami, Sridevi and Bhudevi are seated in the unjal (Swing) and the
deities are swung to the accompaniment of Veda parayanam and mangalavadyam. This hall is present on the opposite side of Ranganayaka Mandapam.
The lamps are lit behind the swings and the notes of different musical instruments used during this ritual are very impressive.
Gathering Point
Devotees should gather at Supadham.
Unjala Seva Timings and Entry Fee
| | |
| --- | --- |
| Day of Seva | Daily |
| Reporting Time | 11:30AM |
| Seva Time | 01:30PM – 02:30PM |
| Price of a Ticket | 220Rs |
| No. of Persons Permitted | Only one person(1) |
| Prasadam | 2 Small Laddu |
For any info required on Dolotsavam (Unjala Seva), please leave your comments below. We will get back to you at the earliest.