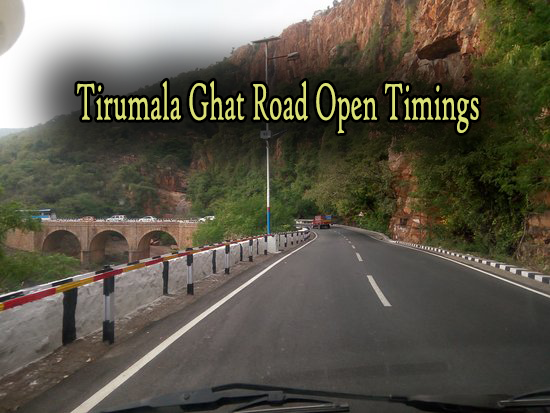 Ghat Road Close Timings
Tirumala Ghat road has a check post at the entrance.The road will be closed every day
Four Wheeler From 12:00 AM to 3:00 AM.
Two Wheeler From 11:00 PM TO 4:00 AM.
At the Ghat road entry point, every vehicle has to register their entry time.The travel time should be one hour or above. Otherwise, vehicles are not allowed into Tirumala.
Tirumala uphills route called also called as Tirumala ghat road. After reaching Tirupati, pilgrims should come by this way only to reach Tirumala.This forest area is dangerous with wild animals.Because of this reason, TTD will allow few vehicles in particular timings only.
What are all Prohibited things to carry Tirumala
pilgrims should not bring any non-veg food items and masalas to Tirumala
bringing alcohol and alcohol beverages are strictly not allowed
Peoples who are drunk alcohol also not allowed to Tirumala and ghat road.
Carrying any fire materials and flammable products to Tirumala not allowed.
Carrying tobacco products such as beedi, cigarette, gutka, pan masalas are strictly prohibited to uphills.
Pilgrims with having weapons are not allowed to Tirumala temple.
Tirumala Ghat Road allowed Vehicles and charges
| Vehicle Type | Seating Capacity | Two-Way Fare |
| --- | --- | --- |
| Car (Own) | 4 | Rs.15 |
| Car (Rental, Taxi) | 4 | Rs.25 |
| Jeep (Rental) | 9 | Rs.50 |
| 2 Wheelers | 2 | Rs.2 |
| APTDC | 32 | Rs.100 |
| Van (12 + 1) | 13 | Rs.60 |
| A.P.S.R.T.C | 45 | No Charge |
| T.T.D Vehicles | 4 | No Charge |
| Govt. Vehicles | 6 | No Charge |
And also check – Journey to tirumala by two wheeler