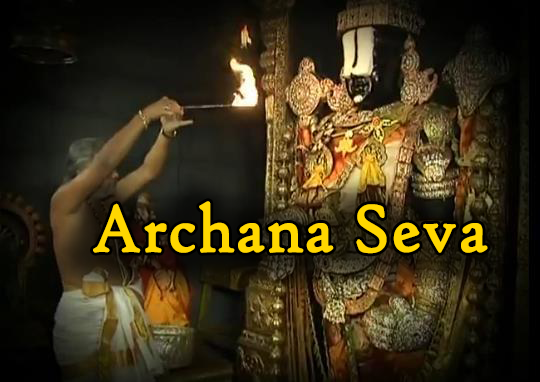 This is the third most daily sevas in Tirupathi, generally performed after Thomala Seva and lasts about half an hour.The 1000 one of a kind names of Lord Venkateswara are droned by pradhana archakas of the temple. This custom is performed within the sight of 200 fans day by day. After that each ticket holder gets an opportunity to take the blessings from the principle god.
Archana is also called as 'Sahasranamarchana'(1008 glorious names of Lord). It is performed everyday, the devotees are allowed to participate in this seva by paying requisite amount of Rs.220. Blessings will be provided to the pilgrims on their name and gothra.Archana refers to the recital of various names of Lord and seeking His divine blessings for the prosperity of the entire humanity.
The Venkateswara Sahasranamarchana is unique to Tirumala shrine only and it is clearly mentioned in the inscription dated back to 1518 AD.
Archana Seva Timings and Ticket Booking 
For online booking tickets visit ttd official site.
| | |
| --- | --- |
| Reporting Time | 4:00AM |
| Seva Time | 4:30AM |
| Day of Seva | Tue-Wed-Thu |
| Price of a Ticket | 220Rs |
| No.of Persons allowed | One |
| Prasadam / Bahumanam | Two(2) small laddus |
| Note : Tickets are not available on Mondays for the months of May, June and July | |
The important feature of this particular seva is that the divine blessings of Lord are invoked in the Names and Gotras of the grihasta pilgrims who take part in this seva by paying requisite amount.
Kindly leave your comment below, We will get back to you at the earliest.