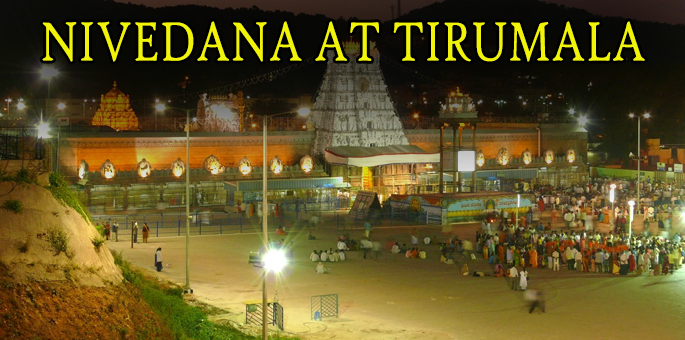 Immediately after the Sahasra Namaarchana, Laddus, Vadas, Tamarind Rice, Pongal, Curd
Rice, etc are offered to the main deity and other images of the Lord in the sanctum
sanctorum every morning. The first food offering is called the initial bell. The second one in
the after noon is named the second bell. The third one at night time is called the third bell.
Lovely Pongal called "Tiru Veesam" bell is offered to the Lord just before Ekantha Seva
(Laying the Deity to sleep). Afterwards, it is offered to Sannidhi Bhashyakara. All these
foods are offered by the priests alone.
TYPES OF "NAIVEDYAM" OFFERED TO LORD
The three major offerings are Bala Bhogam, Raja Bhogam and Shayana Bhogam. Along with these three regular offerings there are various other Naivedyams made for special occasions too.
During Suprabhatha Seva, each morning, raw milk that is refreshing and warm (Darshana Move- Ksheeram) and refreshing butter (Navaneetam) are the first meals offering made to god, the father Venkateswara. Suprabhatam is then followed by Tomala Seva and SahasraNaamaarchana.
During the ritual of Yatraasanam, Lord emerges with a mixture of jaggery, black colored sesame seeds and dried ginger, all powdered collectively. This is accompanied by Sahasranaamaarchana and Bala Bhogam which completes the rituals of the morning (Praathahkaalaaaraadhana).
After devotees take their darsan during Sarvadarsan, Raja Bhogam along with Ashtottharasatanamarchana are performed.
Later, during the night time rituals or Saayankalaradhana, the sanctum is cleansed again and the deity is decorated with fresh blossoms.
At the end of the Sayana Bhogam, the midnight food offering known as 'Tiruveesam' is offered to Him.
It contains white rice and a lovely flavoured rice made with jaggery and called Guddanannam.
The last ritual of the day, Ekaanta Seva ends with an offering of warm milk, along with seasonal cut fruits and dry fruits roasted in ghee can be found to the Lord.
BREAKFAST, LUNCH AND DINNER MENU OF LORD VENKATESWARA
Lord of Riches also enjoys various mouthwatering annaprasadams and other delicacies for his breakfast, lunch and dinner.
TYPES OF PRASADAMS
For "Divine Break Fast" after First Bell in the temple, Anna prasadams like Matrannam,
Mudgannam (ghee pongal), Tintrinirasannam (tamarind rice-pulihora) Dadhyodhanam
(Curd rice), Gudannam (jaggery rice, Chakra Pongal), Sakannam (kadambam rice made of vegetables), Shakkarannam (Ravakesari) are prepared.
Besides these, four other kinds of snacks or Panyaramulu (savory) are also wanted to Lord every day.
They include Ladukam (Laddu), Mashappam (vada), Gudappam (appam), Chakrappam (dosa).
After second bell, Lunch or Raja Bhogam menu emerges to Lord. The delicacies during this hour includes Suddhannam (basic white rice), Pulihora Gudannam, Dadhyodhanam, Seera or Sakkarabath.
For Dinner or ShayanaBhogam after the third bell, Marichyannam or pepper rice, Chakrappam, Dosa , Ladukam, Mashappam, Sakkarannam are offered.