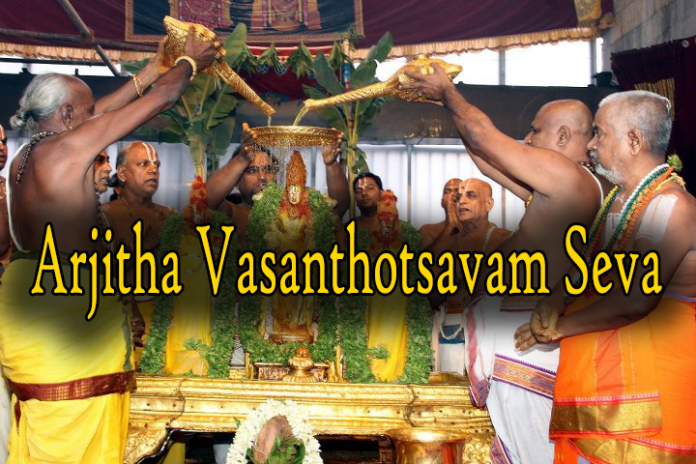 Arjitha Vasanthotsavam Seva is the one of the daily sevas for Lord Venkateswara Swami in Tirumala. This seva is offered for Sri Malayappa Swami and his wifes Sri Devi and Bhu Devi.
Arjitha Vasanthotsavam Seva
This seva begins with scents applied to the Utsava idols. The temple priests chant Narayana Suktam, Purusha Suktam, Bhu Suktam and Shri Suktam. For the idols, Abhishekam is done to the Lord and His consorts with sacred water, milk, curd, honey and turmeric. Finally, sandal paste is applied to Sri Malayappa Swami and consorts. At the conclusion of the Seva, a perforated plate is held on top of the deities and water poured, creating a shower.
 At last sandal paste is applied to the Sri Malayappa and his wifes. The conclusion of this Vasanthotsavam seva perforated plate is held on the top of the Ustava idols and poured holy water creating as the shower.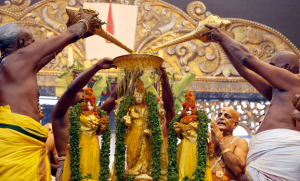 Gathering Point
Devotees should gather at Supadham.
Timings for Vasanthotsavam Seva
This Arjitha Vasanthotsavam Seva is performed at 03:30PM.
Ticket cost for Vasanthotsavam Seva
For this Vasanthotsavam daily say ticket price is Rs 200.
2 Small laddues, one Upper slik piece or one blouse piece.
Booking Online tickets for Vasanthotsavam Seva
For this Vasanthotsavam Seva book tickets through Online in advance. Or you can get the tickets at TTD office at Tirumala.
After finishing this seva the devotees are getting darshan for the main idol of Lord Srinivasa in the sanctum.
Book Arjitha Vasanthotsavam Seva Tickets Online for ttdsevaonline.com
For any info required on Arjitha Vasanthotsavam Seva please leave your comments below. We will get back to you at the earliest.