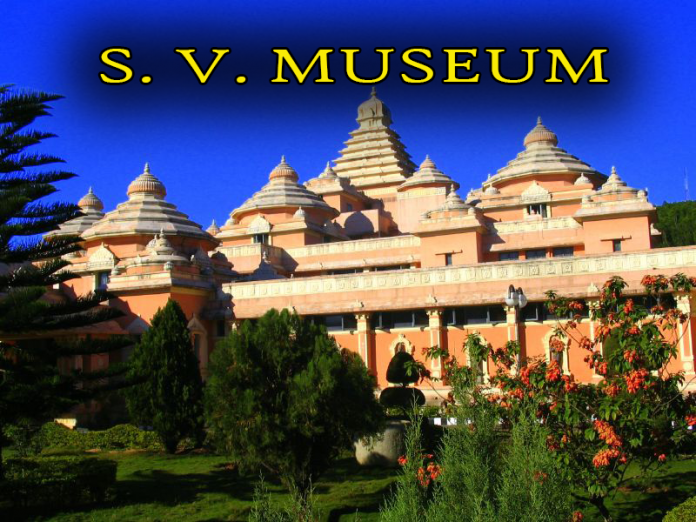 The Hall of Antiques was first established in 1980 in Thousand Piller mandapam opposite to the main shrine in Tirumala . Now the S.V. Museum is situated in a sprawling building with an area of 1.25 lakh sq.ft opposite to Vaikuntham Queue Complex in kaleidoscopic environ of Tirumala surrounded by beautiful gardens and it is a rejoicing place for visiting pilgrims. This museum is an epitome of Traditions of Tirumala, Vaishnavism and Hindu culture. It houses more than 6000 items of historical interest ranging in date from very early period to the present. The collections are spread over ten sections ranging from archaeology to contemporary items.
Sri Venkateswara Temple in Tirumala, Andhra Pradesh has been a repository of rich heritage, cherished by the kings, nobles, poets, sculptures, dancers, musicians all gathered in Tirumala and enriched the temple lore. It contains valuable antique materials to enable an art historian to trace the history and development of temple art.
Distance (From Tirumala Bus Station) – 1 Kms.
Commonly Visited From – Tirumala Bus Station.
Trip Duration (From Tirumala Bus Station, Including Travel) – 1 Hour.
Place Location – Nar Vaikunta Queue Complex 2.
Transportation Options – Cab / Walk/Trek.
Different galleries in the S.V. Museum host and display its acquisitions, donations, and offerings bequeathed from the unknown past. Vahanams gallery presents an array of Srivari Vahanams used during Brahmotsavams. Original copper plates of Annamayya's compositions enthrall the visitors. Pilgrims can have a look at the Varahaswamy Copper inscription, a cherished treasure of Tirumala.
All the great dynasties of southern peninsula of India have paid tributes to lord Venkateswara. Pallavas of Kanchipuram, Cholas of Tanjavur, Pandyas of Madurai, Kings of Vijayanagara of Hampi and chieftains of local dynasties have esteemed the lord.
At a distance of 1 Kms from Tirumala Bus Station & situated close to Tirumala Tirupati Balaji Temple, Sri Venkateswara Museum is a good place to understand the history and architecture of Tirumala temple. It is located near Vaikunta Queue Complex 2 of Lord Venkateswara Temple. It is one of the popular attractions in Tirumala.
Established in 1980, the Museum wing houses numerous religious artifacts of pooja utensils, along with the time-honored art and architecture. This place has meditation halls for the worshipers to make a peaceful meditation.
Note:The museum is open EVERY DAY from 10 am to 6 pm. Entry is free and works seven days a week.
And also check –  History of Tirupati