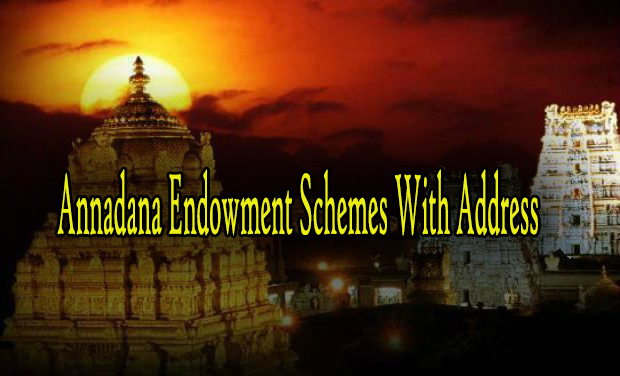 Sri Venkateswara Nitya Annadana Scheme
T.T.Devasthanams has envisaged this scheme, aimed to provide full meals freely to the devotees at Tirumala.
A donor can make an endowment of Rs 5 Lakhs or Rs 10 Lakhs or Rs 1,000.00 individually there of to the T.T.Devasthanams and the Devasthanams will contribute an equal amount towards matching grant and deposit the entire amount in a Nationalized Bank to feed over 10,000 pilgrims every day on the interest earned.
Donation can be by individuals, firms, companies etc, and they are eligible for exemption of income tax under 80 (G).
Donor's name will be displayed prominently in the dining hall.It will also be printed on the free meal coupons issued to the pilgrims and read in Srivari Koluvu every morning before the Lord.
Many philanthropists like Sarvasree L.V.Ramaiah, Mansinghka, R.P. Goenka, Eswara Prasad Poddar, Natubhaiah Ambani, B.M.Khaitan, R.K.Jalan, M.R.Chhabria and Ramnath Goenka had already donated for this pious cause.The T.T.Devasthanams appealed to all philanthropists to send their donations for the scheme to the
Executive Officer,
T.T.Devasthanams,
Tirupati – 517 504
Andhra Pradesh,
India.
And also check – Sri Venkateswara Nitya Prasada Dana / Endowment Scheme