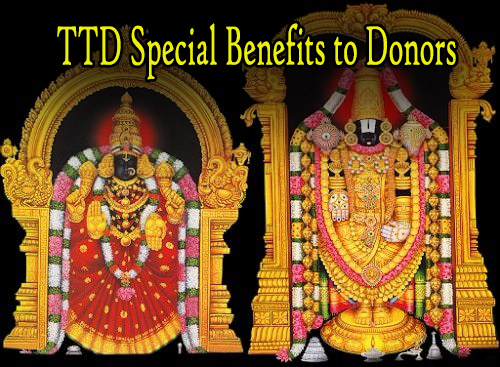 Special benefits to donors who contribute Rs. 5 lakhs and above
VIP darsan through cellar in Vaikuntam to the donors and their family members (not exceeding five) for 3 days in a year.
One gold plated silver medallion with the images of the Lord and Goodess Padmavathi Devi.
Free accommodation for 3 days or VIP accommodation on payment subject to availability.
These facilities will be extended to individual donors for lifetime and for 20 years to joint Donors/Firms/Companies.
All donations to Sri Venkateswara Pranadana Trust are exempted from Income Tax under section 80 (G) of the I.T. Act.
Please send your donation to The Executive Officer Sri Venkateswara Pranadana Trust, T.T. Devasthanams, K.T. Road, Tirupati 517 507.
And also check –  TTD General Donations