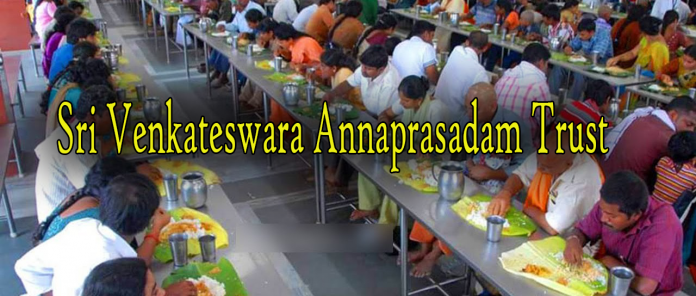 Sri Vekateswara Annaprasadam is unique among all donation trusts that are being run by TTD. 'Annam Para Brahma Swarupam'. Food only can support the body to attain Dharma, Artha, Kama, Moksha. The person, who participate in this sacred Annadanam, by giving generous donations will be blessed by divine Gods. Creatures cannot live without food, hence "giving donations to Annaprasadam will serve as Pranadanam" to the people who are hungry.
Details of Sri Venkateswara Anna Prasadam Trust
Programmes of the scheme This was started on a small scale in 1984 and now Tirumala Tirupati Devasthanams is providing full meals as "Annaprasadam " on free of cost to all devotees in Tirumala and Tiruchanoor. Every day nearly 2 lakh devotees are availing the free Annaprasadam in Matrusri Tarigonda Vengamamba Nithya Annaprasadam Complex, PAC-II Tirumala .
TTD is also supplying food packets on a continuous basis to the pilgrims awaiting for darshan in outside Q-lines and in the compartment of VQC-I & II . In Sri Padmavathi Ammavari Temple also nithya Annaprasadam facility being provided, daily for about 5000 pilgrims at free of cost. Besides this T.T.D. is providing free food to the pedestrian Pilgrim in the Alipiri foot path near Narasimhaswamy Temple.TTD started distribution of Annaprasadams at Srinivasam and Vishnu Nivasam complexes, Tirupati with effect from 11.1.2014 to 10,000 pilgrims twice a day.
HOW THE TRUST OPERATES 
This trust is being run with the donations received from Devotees / Donors from all over the world. With a view to continue the trust forever the Devasthanams deposited all the donations in nationalized banks and the interest accrued on it is being utilized for the trust. So, Annaprasadam will not be performed either on behalf of a particular donor or on a specified date. Annaprasadam is being performed on all 365 days in a year with the interest on magnanimous donations received from the donors.
HOW TO DONATE
Donations can be made by way of cheque or demand draft on any scheduled bank drawn in favour of 
The Executive Officer,
Sri Venkateswara Anna Prasadam Trust, TTD, Tirupati
and can be sent to the
Deputy Executive Officer,
Sri Venkateswara Anna Prasadam Trust,
TTD Administrative Building,
K.T. Road,
Tirupati – 517 501.
The intending donors may contribute their donations on any Scheduled Bank at Tirumala/Tirupati directly and may obtain the receipt from the bankers.