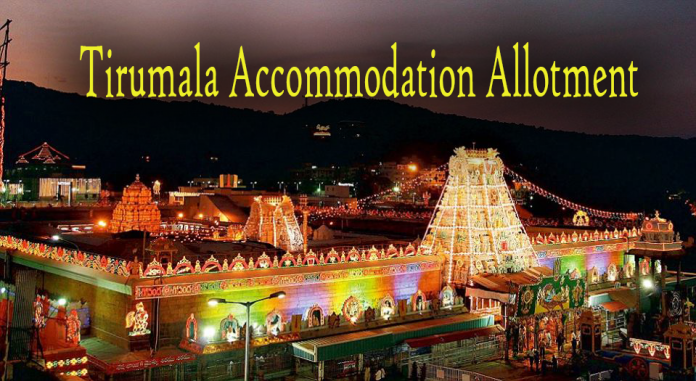 Tirumala Accommodation Allotment Procedure, Location, Counter Timings and Booking procedure
General Room allotment Counters in Tirumala
1. Central Reception Office (CRO) General  – Located right opposite to Tirumala bus station
2. Kousthubham Rest house – Located Backside of CRO office
3. MBC 34 – Located near JEOs office.
4. Padmavathi Enquiry – Backside of Tirumala Bus station.
5. Sannidhanam Rest House.
General Room allotment Counter Timings: 6 am  – 10:00 pm.
General Bookings at Allotment Counters
1. Counter operates from 6 am – 10 pm
2. Only one room will be allotted for 1 day
3. Rooms are allotted on First-Cum-First Serve basis
4. Bookings will be easy on Tue, Wed and Thu as the crowd will be minimal. It may not apply on special
days.
5. One can visit any of the listed counters for room allotment in Tirumala.
Internet Bookings Room allotment Counter
1. Internet Bookings will be allotted at ARP counter which is right opposite to CRO office.
2. Counter Timings: Opens for 24 hours.
3. ID proof required room allotment.
4. Caution deposit is not required as room extension will not be provided.
Donor Cell Room allotment counter
1. Donor Cell Room allotment counter shifted to Adiseshu Resthouse, which is located near MBCguesthouse.
2. Donor Cell operates from 6 am – 10 pm.
3. The room will be allotted for a day.
4. During Special days such as Brahotsavam, Vaikunta Ekadasi, Vaikunta Dwadasi..etc, rooms are allotted for the cottage donors only.I will try to get more info on the room.allotments at CRO office Tirumala.
And Also Check – TTD accommodation booking process