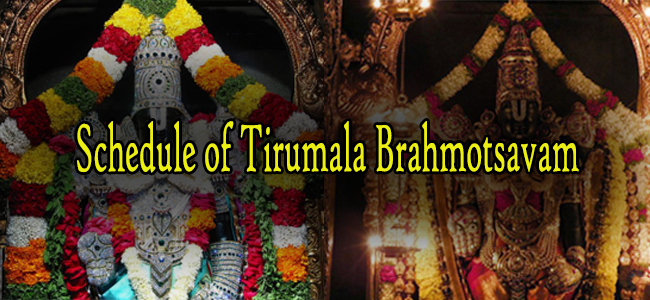 TTD Brahmotsavam in 2019 Dates
Brahmotsavam: 30th September  2019 to 08th October 2019
| | | |
| --- | --- | --- |
| Date | Morning Hours | Evening Hours |
| 30-Sep-19 | Dwajarohanam | Pedda Sesha Vahanam |
| 1-Oct-19 | Chinna Sesha Vahanam | Hamsa Vahanam |
| 2-Oct-19 | Simha Vahanam | Muthyapu Pandiri Vahanam |
| 3-Oct-19 | Kalpavruksha Vahanam | Sarva Bhoopala Vahanam |
| 4-Oct-19 | Mohini Alankarana | Garuda Vahanam |
| 5-Oct-19 | Hanumantha Vahanam | Gaja Vahanam |
| 6-Oct-19 | Surya Prabha Vahanam | Chandra Prabha Vahanam |
| 7-Oct-19 | Rathotsavam | Aswa Vahanam |
| 8-Oct-19 | Chakra Snanam | Dwaja Avarohanam |
Morning Hours Vahanam Timings: 9:00 am – 11:00 am
Garuda Vahanam Timings: 7:30 pm – 1:00 am.
Evening Hours Other Vahanam Timings: 9:00 pm – 11:00 pm.
Darshan Dress Code: Any decent outfit.
Expected Darshan waiting time: 6 – 8 hours
Tirumala Brahmotsavam 2019 Darshan
1. Supadam Entry, VIP Break Darshan, Arjitha Sevas, Senior Citizen Darshan and other Privileged Darshan may not be available during this TTD Brahmotsavam time.
2. Devotees can have Sarva Darshan and Divya Darshan Brahmotsavam.
3. Divya Darshan tokens may not be issued on 3-Oct-2019 and 4-Oct-2019 due to Garuda Vahanam.
4. Two Wheelers entry to Tirumala will be restricted on 3-Oct-2019 and 4-Oct-2019 to avoid congestion.
5. Limited Entry for Four Wheelers. Max 7000 Four wheelers will be allowed to Tirumala.
6. Darshan time will be less during Vahanam timings.
7. Srivari Mettu and Alipiri Mettu remain open for 24 hours on Garuda Vahanam day.
8. Gallery Entry will be closed from 11:00 am on 4-Oct-2019. It is advised for the devotees to reach Gallery before 10:00 am.
And also check – Brahmotsavams in Tirumala
Brahmotsavam is a annual festival in Tirumala which  is celebrated in memory of Lord Srinivasa's self manifestation day under the leadership of Brahma. Millions of people throng to Tirumala on this occasion to bath in the divine spirituality of his highness. The nine days Brahmostavams are one of the magnificent festivals celebrated at Tirumala.
Each day on these nine days, Lord Venkateswara is took for a ride in the Mada streets on different vahanas.