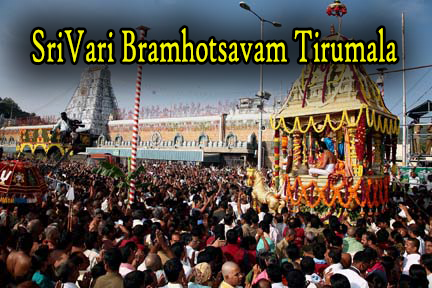 Srivari brahmotsavam 2019 dates
| | | |
| --- | --- | --- |
| Date | Morning Hours | Evening Hours |
| 30-Sep-19 | Dwajarohanam | Pedda Sesha Vahanam |
| 1-Oct-19 | Chinna Sesha Vahanam | Hamsa Vahanam |
| 2-Oct-19 | Simha Vahanam | Muthyapu Pandiri Vahanam |
| 3-Oct-19 | Kalpavruksha Vahanam | Sarva Bhoopala Vahanam |
| 4-Oct-19 | Mohini Alankarana | Garuda Vahanam |
| 5-Oct-19 | Hanumantha Vahanam | Gaja Vahanam |
| 6-Oct-19 | Surya Prabha Vahanam | Chandra Prabha Vahanam |
| 7-Oct-19 | Rathotsavam | Aswa Vahanam |
| 8-Oct-19 | Chakra Snanam | Dwaja Avarohanam |
Every day is a festival day in Tirumala and the Lord of Riches, Universal Lord Sri Venkateswara enjoys over 450 festivals in a year which includes daily, weekly, fortnightly, monthly, yearly festivals. Of them, the annual Bramhotsavams are considered most important as they are believed to have initiated by none other than Lord Brahma, the creator Himself. The details as follows,
Although many utsavas are conducted for the Lord throughout the year, the Brahmotsavams at Tirumala which take place for nine days a year assume greatest prominence in the history of Tirumala. At the instance of Brahma and other gods and goddesses, Sri Venkateshwara manifested Himself to protect the humanity in Kali Yuga on the day of Shravana star in Kanya Masam to give credence to the adage, "Kalou Venkata Nayakah".
Brahma Himself conducted utsavas for nine days ending on the day Lord's self-manifestation. Since Brahma Himself conducted these utsavas to Sri Venkateshwara,
direct manifestation of Para Brahma, these acquired prominence as Brahmotsavas.
In the course of time later, several queens organized Brahmotsavas to Tirumalesha.
The day before the Bramhosthavam, the commander-in-chief of the army of the Lord's domain – Sri Vishwaksena- goes around the thoroughfares of the temple town supervising the arrangements. In the course of his inspections he collects the sacred earth (Mritsangrahanam) required for the yagasala inside the temple.