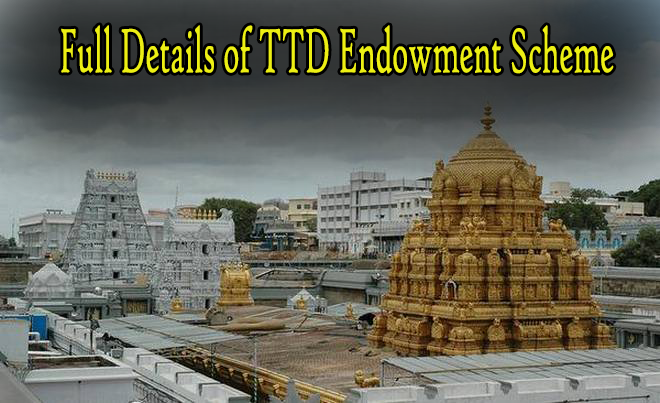 ENDOWMENT SCHEMES
The donor will be presented with one set of two gold guilded silver coins consisting of "Sri Lord Venkateswara & Goddess Padmavathi" on one coin and "Ananda Nilayam" & "Lakshmi Stotram" on another coin to those who have donated Rs 1 lakh and above towards Udayastamana Sarva Seva Scheme, Nithya Prasada Dana Scheme/Annadana Scheme, Nithya Laddu Dana Scheme.
Nitya Laddu Dana
Sri Venkateswara Nitya Laddu Dana Scheme
-A prasadam of 25 gms of Laddu (not less than 25,000 Nos.) will be distributed in the name of the donor on a fixed date of his choice.The amount of endowment is Rs 1 Lakh.
-The donor will be provided with the following facilities.
-The donor and his family will be given V.I.P accommodation at Tirumala for three days in a year free of cost.
-Free darshan with arathi during break on the three days will be arranged to the family of the donor not exceeding five persons.
-The name and the gotram of the donor will be read out at "Koluvu" in Srivari Temple,Tirumala in the morning of the specified day of distribution.
-The donor will be given one Vastram as Bahumanam.
-The donor will be given 6 T.T.D Laddus and 6 Vadas as Prasadam.
-The donor or his representative can be present on the day of distribution.If nobody is present at the distribution of Laddu on the day, the donor will be intimated along with the Sri Vari Maha Prasadam packets.
Balaji Archana Scheme
Under this scheme Archana will be performed to the Lord in donor's name on any specified day of his choice every year for a period of 10 years.
The donor should make an endowment of Rs 5,588.00 to the Tirumala Tirupati Devasthanams.This amount with accumulated interest will come to Rs 15,000.00 in 10 years and the donor will consequently have the satisfaction of donating Rs 15,000.00 to the Lord.
No. of persons allowed :
Suprabhatam — 3
Archana — 2
Darsana — 3
Prasadam…………One small Laddu, One Vada and Maha Prasadam.
Bahumanam………One Angavasthram or Blouse piece.
Nitya Prasada Dana
Sri Venkateswara Nitya Prasada Dana / Endowment Scheme
Under this scheme one can make an endowment of Rs 500.00 for the distribution of 10 Laddus or 10 Vadas to pilgrims on a fixed day of one's choice.Birthday, Wedding Anniversary, Sraddha etc.Consequent on the introduction of S.V.Nitya Annadana Scheme the distribution of food packets has been discontinued.
The donor can make multiples of Rs 500.00 as endowment.And if the amount is Rs 10,000.00 (20 endowments) the T.T.D, with the interest accrued there on will arrange darshan for 5 persons of the donor (It is the cost of five special darshan tickets valuing Rs 125.00 each now).
This contribution is exempted from income tax under section 80 (G) (2) (B) of Income Tax act 1961.
Nitya Annadana 
Sri Venkateswara Nitya Annadana Scheme
T.T.Devasthanams has envisaged this scheme, aimed to provide full meals freely to the devotees at Tirumala.
A donor can make an endowment of Rs 5 Lakhs or Rs 10 Lakhs or Rs 1,000.00 individually there of to the T.T.Devasthanams and the Devasthanams will contribute an equal amount towards matching grant and deposit the entire amount in a Nationalized Bank to feed over 10,000 pilgrims every day on the interest earned.
Donation can be by individuals, firms, companies etc, and they are eligible for exemption of income tax under 80 (G).
Donor's name will be displayed prominently in the dining hall.It will also be printed on the free meal coupons issued to the pilgrims and read in Srivari Koluvu every morning before the Lord.
Many philanthropists like Sarvasree L.V.Ramaiah, Mansinghka, R.P. Goenka, Eswara Prasad Poddar, Natubhaiah Ambani, B.M.Khaitan, R.K.Jalan, M.R.Chhabria and Ramnath Goenka had already donated for this pious cause.The T.T.Devasthanams appealed to all philanthropists to send their donations for the scheme to the Executive Officer, T.T.Devasthanams, Tirupati – 517 504 Andhra Pradesh, India.
Cottage Donation
Cottage Donation Scheme
I. Cottages: T.T.Ds have taken up construction of first floor (C & D Portions) over the existing cottages in Seshadri Nagar, Anjanadri Nagar and Garudadri Nagar area.The donation amount for these cottages is fixed at Rs 1.50 Lakhs for Seshadri Nagar and Anjanadri Nagar cottages and Rs 2.25 Lakhs for Garudadri Nagar Cottages.The cottages in these areas are already for allotment to donors except in Garudadri Nagar, which may take 1 year for completion.
II. Special Type Cottages: The project to construct special deluxe type of cottages in Surapuram Thota area has been taken up at the request of many devotees.The donation amount for these special type of cottages is Rs 5 Lakhs.The period of construction is 1 & half years.
Guest Houses: 
Varahaswamy Guest Houses : The proposal to construct 200 fully furnished suites in Perindevi Thota area is in progress.The donation amount for each suite is fixed at Rs 1 Lakh and the expected period of completion is 1 & half years.
Kaveri and Alakananda : It is proposed to construct 248 suites in Kaveri and Alakananda Guest Houses, for which the donation amount is Rs 1 Lakh. All suites are fully furnished and the construction period is 1 & half years.
Sapthagirula Satramulu : Sapthagirula Satramulu Block No III. Present name is Thunga Badra. Unfurnished tenement costs about Rs 40,000.00 (Forty thousand Only).
Dormitory Halls :
A major project to construct Dormitory Halls in Perindevi Thota area has been taken up by T.T.Devasthanams.These Dormitory Halls will have 2 rooms and the donation for each dormitory hall is Rs 3 Lakhs.It is proposed to construct 20 Dormitory Halls.The period of construction is 1 & half years.It is also proposed to construct two big dormitory halls in the same area and the donation amount for each hall is Rs 6 Lakhs.
Procedure:
The donor can send an application on plain paper specifying the category of cottage addressed to the Executive Officer, T.T.devasthanams, K.T.road, Tirupati-517 501, along with a demand draft for the full amount of cottage/suite/tenements in favour of "The Executive Officer" on any nationalized bank payable at Tirupati.The donation can be made either by individuals/firms/companies/joint donors also.The cottages, suites and tenements will be allotted to the donors with seriatim.
Facilities to the Donor : 
The donor can stay for 60 days in a calendar year, not exceeding 10 days at a time, by payment of service charges only.This facility is available in case of individual donor during his life time, as well as his wife and to the next heir.In case of joint names/firms/companies/trust, the privilege of stay will be limited to 20 years only.A name tablet with donor's name and place in memory of one person will be prominently displayed in front of the cottage donated.The donations made for construction of cottage/guest houses is not entitled for any Income Tax exemption.
And also check – Sri Venkateswara Nitya Annadana Seva Endowment Schemes