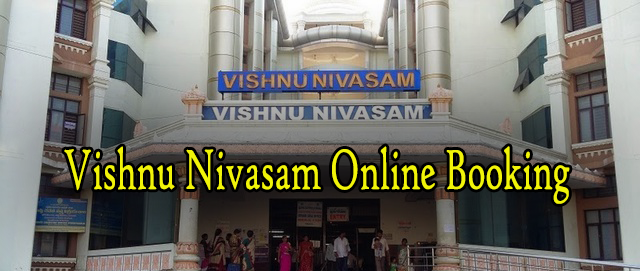 VISHNU NIVASAM
TTD Cottage, Vishnu Nivasam complex is located just opposite to Thirupathi Railway Station. It is very close to Tirupati bus stand(just 5 mins walk) and railway station. Vishnu Nivasam is the best TTD accommodation center for all pilgrims who visit Tirupathi. Vishnu Nivasam complex is maintained by TTD along with Srinivasam & Madhavam complex
near Thirupati Bus stand. It has free locker facility as well. The toilets are clean. It has a restaurant facility in the ground floor. Very good car parking facility available.
| Room Category | Total No.of Rooms | Charges per Day each room |
| --- | --- | --- |
| Non A.C. Rooms | 196 | Rs .300 |
| Non A.C. Suite Rooms | 8 | Rs .500 |
| AC Rooms | 196 | Rs .800 |
| AC Suite Rooms | 8 | Rs .1340 |
Vishnu Nivasam Rooms Online Booking Procedure
50% Of the Rooms will be released online to enable pilgrims to book the rooms in
advance.
Pilgrims can book rooms by visiting https://ttdsevaonline.com.
Devotees should have a login in the above mentioned site.
Pilgrims should upload their photograph to continue with the booking.
Room booking will be opened 60 days in advance . So pilgrims are requested to book the rooms soon, so that they can have a comfortable stay.
Only one room booking is allowed per login during 60 days.
The person who made the booking can only take the room.
Cancellation or Transfer of booking is not allowed.
Produce your booking receipt at the reception in Vishnu Nivasam to get the room keys.
During Room allotment Caution Deposit will be collected.
Please keep the receipt safe until you vacate the room.
Vishnu Nivasam Room Allotment Extension
Extension for one day will be done at Room allotment counter in the Ground Floor, with the same tariff.
Pilgrim has to inform the reception about the extension in advance.
Pilgrims who want to stay beyond 2 days from the time of allotment have to pay double the rent amount.
Double rent is charged to avoid misuse.
Room will be allotted to the person on whom the booking is made.
Room cancellation, Change in booking is not available.