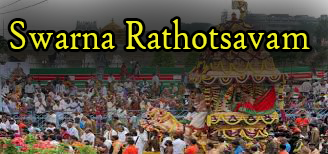 The lord Malayappa is taken out on Swarna Rathotsavam which is nothing but Golden Chariot. Swarna Rathotsavam is conducted on the four mada streets with his consorts Sridevi and Bhudevi around the shrine of tirumala temple. Large crowded devotees can watch this attractive Swarna Rathotsavam from seating gallery. Many of the devotees have an belief that they can come of their sins.
Every year this Swarna Rathotsavam utsavam is conducted on Vaikunta Ekadasi day. On this day, all the piligrims are allowed for sarva darshan. Accommodations for the piligrims are allotted under current booking. Devootees are also allowed for the Vaikunta Dwara Darshan on these two days.
On these two days of Vaikunta Ekadasi, all the arjitha sevas are suspended in the tirumala temple. On January 9th, the Vaikunta Dwadasi day, the ttd wiil conduct the Chakrasnanam of Sudarshan Chakrathalwar from 4.30am to 5.30am.
Timings: 9:00 am to 11:00 am.
And Also Check – monthly utsavas in tirumala