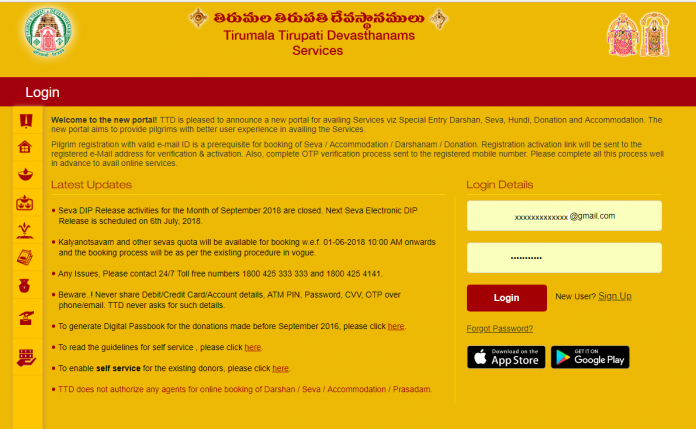 Seva Tickets Online The Tirumala Tirupati is a glorious and remarkable structure, of ancient sculpture and carvings and it is very popular Hindu temple, Tirupati is visited by 50,000 people every day and about in million in any special occasions. So it is the best way to book your seva tickets in advance.
It used to be very hard to get Seva Tickets for common man in the past, you always needed some recommendation, but now things have changed and everyone has a chance for the same. It can be tricky and process is confusing. Below is the process that is for booking any of the Below TTD Seva Tickets online and the Electronic Lucky Dip Lottery Process.
For more details Thomala Seva
For more details  Archana Seva
Ashtadala Paadha Padhmaradhana Seva
For more details Ashtadala Paadha Padhmaradhana Seva
For more details  Suprabhata Seva
Sahasra Kalasabhishekam Seva
For more details Sahasra Kalasabhishekam Seva
For more details  Nijapada Darshanam Seva
And also we can give more information about how to perform all Sevas for Sevas.
Required things for creating an User ID Login in ttdsevaonline website
Passport Size photo
ID proof such as Driving license, Aadhar Card, Passport, Pan Card etc.
Communication address as in ID proof.
Email ID for getting Transaction Details.
Mobile Number not yet used for TTD website.

We are happy to guid you the process of  TTD Online Tickets Booking Step by Step Procedure
Step 1.
Register Online Account at ttdsevaonline.com. You can check out How to Book TTD Darshan Tickets Online Tirumala for registration process and step by step guide.
Follow these easy steps to create a ttdsevaonline account of TTD and enjoy the e-services from them.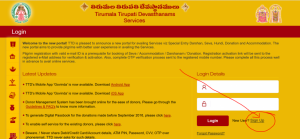 Once the home page is displayed, you need to select Signup button on TTD e-services home page.
You can view the signup page where you have to enter all your details to register yourself
Type your first name, last name
Select the gender from gender option
Enter your complete address, city, state, and Pincode
Select the country name and enter your mobile number
Select your ID proof type and enter your ID card number
Then select on browse option and upload your photo of size less than 10KB
Enter your email id and password of your choice
Then you need to type the two words that are displayed in ReCAPTCHA box
Select the check box option of I to accept the terms and conditions of TTD devasthanam check box
To save the entered details, then select on submit button and register yourself.
Now you receive a confirmation email so that you can activate TTD online account. After receiving the confirmation email id, then you need to activate the account. These steps tell you about How to Activate your TTD Account (ttdsevaonline):
Open your email id and check the email that you received.
To activate your account, select on confirm your registration.
You can now get your account activated successfully.
Thus you can complete your registration.
Right now you have your own email id and password through which you can login into the TTD website and access various services available provided by them. Internet booking is available from 9 AM to 12 AM and during this time you can book your darshan and accommodation online.TTD Darshan or sava tickets are issued to people of different countries. Arjita saves are also issued on a lottery basis and the accommodation for rooms of zero tariffs to the higher tariff is provided on first come first served basis. The availability of rooms is displayed at counters on daily basis and hourly basis. Using your own email id and password you can Register your TTD Tickets Online(Internal Link) and have happy darshan along with your family members. Tickets for children of age 12 are not required. Once you visit TTD by booking your tickets online, you are not allowed to book the tickets for 3 months. Apart from that, a pilgrim can book Seva tickets minimum of 3 days in advance. Any queries related to ticket booking or room booking online, you just write them in the comment section below.
Step 2.
Look for Seva Electronic Dip under Services as show below. You can also look under menu in services.
Step 3.
check the availability on possible dates, here Green will indicate available, Red will indicate filled booking and Blue indicate not released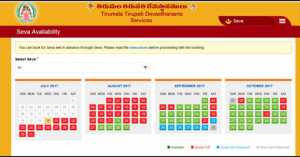 Step 4.
You will need to select the people applying for the Seva Electronic Dip.  You have an option to select either one or two people.  See Screenshots below. One you select the person or persons, then you can hit continue to go to next step.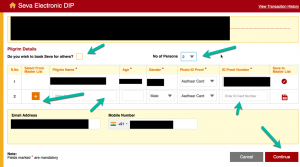 Step 5.
On the next screen, select seva name and seva date and select on continue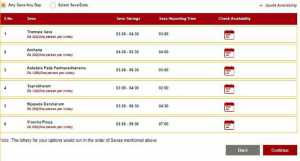 Now, enter your details like your age, state and select on choose to upload your scanned photos.
Check on I Agree with terms and conditions, and selcet on continue.
You will need agree to the terms and conditions of TTD for the Seva Dip. You need to check the box as indicated below in screenshot and hit continue.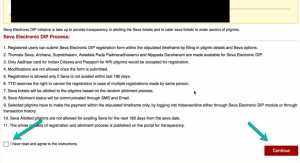 Now, Transactions id will be allotted, save it for further references.
Now, choose your Banker's payment gateway Process. Fill up all the details like card no, CVV, expiry date and all accurately and select on NEXT.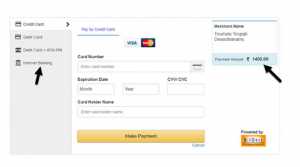 After successful payment, seva tickets will be produced along with Booking Number and you will get confirmation mail to your e-mail select on receipt to view and print.
You should keep 2 copies of a print of seva tickets and reads the instruction carefully.
Step 6.
Now you have choice to select the Sevas you want to apply electronic dip or lottery for. You will have all the five sevas listed there like Thomala Seva, Archana, Astadal Pada Padmaradhanamu, Suprabhatam, Nijapada Darshanam.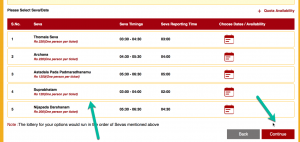 If say you select one seva, you will get a pop up like below and you can select one day or all the days by selecting select all like below. Once you do that, you can continue to the next seva and select more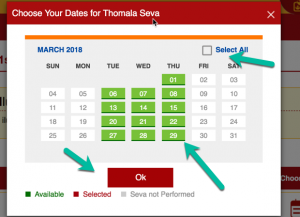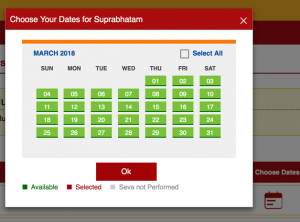 Basically, you can apply for the electronic Lucky dip for all the all sevas and select everything. Some sevas run on some days and some run on everyday like Suprabhatam seva like above. You can choose all of these.  The trick is that they are run in below order for the Lottery or lucky dip.
Thomala Seva 2.  Archana 3. Astadal Pada Padmaradhanamu 4. Suprabhatam 5. Nijapada Darshanam.
Once you select all, you can hit continue.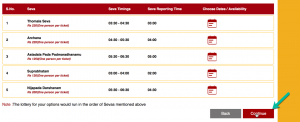 Step 7.
Summary of what you selected is displayed for you for your reference as preview. You can review and submit at this step.
Step 8.
Confirmation Displayed. You will have confirmation displayed like below. and you can check in transaction history as well. Also, you will be shown how many days left for electronic lucky dip.

Step 9.
Email Confirmation from TTDOnline. You will get an email confirmation from the TTD Online that your lucky dip is accepted and the confirmation number. It looks like below. You will be informed on the date of the dip and the results as well.

Step 10.
Display of the status on how many days left.
Once you are done with your process, you need to wait. You will be informed via email, if you get selected in the electronic lucky dip in any sevas. You will need to pay the respective amount for the confirmation.
Lucky Dip Selection date will be published on that the selected pilgrims will get SMS and email to their registered mobile number and email address. Or you can Search in this page,
Here you can search with any one of the following
Form ID (Submission ID)
Aadhaar Card
Passport
Mobile Number
Once you are selected in the list you will be allowed to make your payment with in 3 days. Ensure that
you make the payment.
Have a happy Lord Sri Venkateswara Swami Seva and Blessing!!!!!
This is all about, How to Book TTD seva Tickets in advance through Online. Hope it helps you please share your suggestions with us.