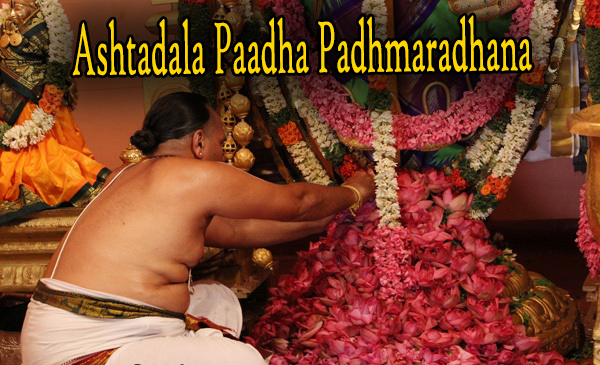 This seva is conducted after the second bell. This ritual was first introduced in Srivari Temple in 1984 on the Golden Jubilee Year of TTD, when a Muslim Devotee offered Lord Srinivasa 108 gold lotuses.
Ashtadala Paadha Padhmaradhana Seva Details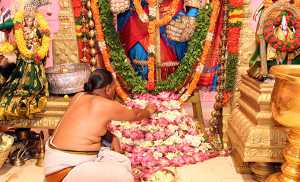 Ashtadala Pada Padmaradhana is the weekly Seva in Tirumala Tirupati Devasthanam which is performed on every Tuesday for Lord Venkateswara Swamy.
The Ashtadala Pada Padmaradhana ritual was announced in 1984 for Lord Venkateswara on the Golden Jubilee year of Tirumala Tirupati Devasthanam.
Once the second bell is completed, this Seva was started when a Muslim Devotee is donated for Lord Venkateswara 108 gold lotuses for each weighing about 23 grams. After, it became as Arjitha Seva.
The Arjitha devotees who paid for the Seva are allowed to go and sit in the Mandapam between Bangaru Vakili and Kulasekharappadi.
Gathering Point
Devotees should gather at VQC-I.
Timings for Ashtadala Pada Padmaradhana seva
For Reporting Time – 05:00 AM
Ashtadala Pada Padmaradhana will start at 06:00 AM– 07:00 AM.
The cost of Ashtadala Pada Padmaradhana Ticket is Rs. 1250/-.
2 Big Laddus and 2 Vada as Prasadam, Vastra Bahumanam (for Men Upper Cloth (uttariyam) and for Women 1Blouse Piece) are given to the ticket holders.
Dress Code for Ashtadala Paadha Padhmaradhana Seva
A Male devotee can wear dhoti or lungi with uttareeyam or kurta-pyjama.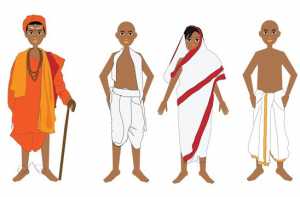 A Woman devotee can wear saree or a chudidar with chunni.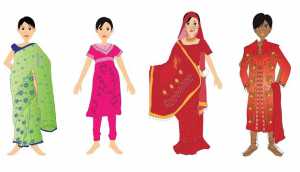 Booking for Ashtadala Pada Padmaradhana seva
Ashtadala Pada Padmaradhana ticket will release by the Tirumala Tirupati Devasthanam on monthly basis.
One person is allowed can book for two tickets then two persons will permit for two tickets.
To carry ticket along with photo, government ID proof
TTD will release nearly 100 tickets through online. Devotees can book Ashtadala Pada Padmaradhana tickets either online or offline mode.
Book Ashtadala Pada Padmaradhana Seva Tickets Online.
For any info required on Ashtadala Paadha Padhmaradhana Seva, please leave your comments below. We will get back to you at the earliest.