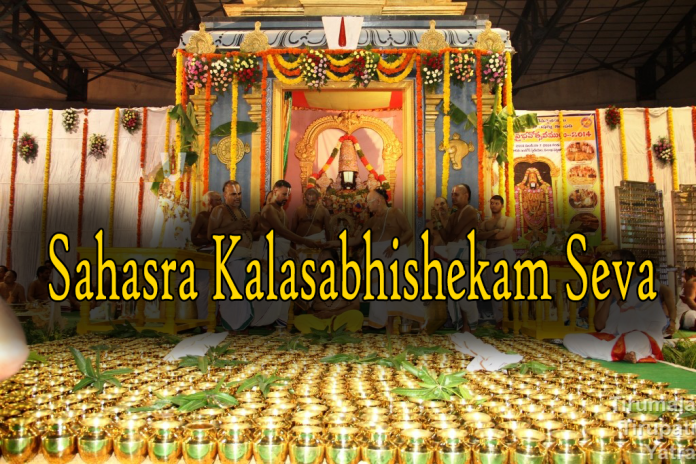 Sahasra Kalasabhishekam is one part of the weekly Sevas for Lord Venkateswara which will be performed on every Wednesday in Tirumala Tirupati Venkateswara. the processional deities of Sri Malayappa Swamy varu along with his two consorts, Sri Viswaksena-the chief commander of Lord. This seva is performed to the deities after the second bell in the morning at the Bangaru Vakili.
Sahasra Kalasabhishekam Seva Details
Sahasra Kalasabhishekam means 1008 vessels are filled with Abhisheka Theertham. The celebration of this auspicious day, that dedication of the silver idols for Lord Venkateswara and his consorts Sri Devi and Bhu Devi along with Lord Sri Viswaksena (He is the chief commander of Lord).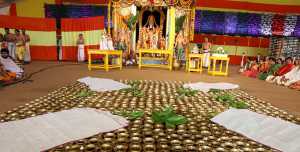 Then an Archana is offered to the main deity and the water from the Golden Vessel is sprinkled on the Feet of the main deity, thus symbolically including the Mula Virat(main deity) also in the Sahasra Kalasabhishekam.
This pooja is performed only on Wednesday.This archana is offered in private where a curtain will be drawn before the Mula Virat, with an Archaka alone inside the temple.
One should make prior booking to get the dates to perform this pooja.
Gathering Point
Devotees should gather at VQC-I.
Timings 
Seva Performed Only on Wednesday.
It should be performed early in the morning, the best time to do this pooja is 5.30AM.
Ticket Cost for Sahasra Kalasabhishekam Seva
 Pilgrims who wish to be a part of Sahasra Kalasabhishekam seva, they need to book   tickets either online through tirumala website or offline.
Ticket cost is approximately Rs. 850/- per person.
The pilgrim can book for 6 persons at a time.
1 Big Laddus, 2 Appams, 1 Vada as Prasadam, Pulihora, Pongal, Payasam and Vastra Bahumanam (for Men Upper Cloth (uttariyam) and for Women 1Blouse Piece) are given to the ticket holders.
Booking for Sahasra Kalasabhishekam Seva
TTD will be released for 25 tickets for this Sahasra Kalasabhishekam Seva is available for online booking.
In this Sahasra Kalasabhishekam will perform only on Wednesday and will not observe when special occasion as Pavitrotsava, Brahmotsavam and more take place.
The availability of TTD Sahasra Kalasabhishekam Tickets is very less because of several numbers of peoples is visiting in Tirumala Tirupati Devasthanam for every day.
Sahasra Kalasabhishekam Seva can be booked online.
For any info required on Sahasra Kalasabhishekam Seva, please leave your comments below. We will get back to you at the earliest.