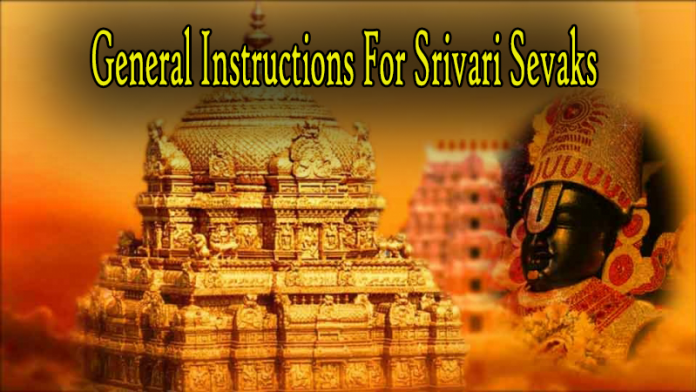 Srivari Seva is a voluntary service where pilgrims will render free services to fellow pilgrims who come for darshan of Lord Venakteswara every day. Interested pilgrims / devotees should register online for Srivari Seva, who will be here-by addressed as "Srivari Sevakulu". Srivari Sevakulu should be from Hindu religion only. Srivari Sevakulu who are within the age limit of 18 years to 60 years alone will be permitted for Srivari Seva. The Srivari Sevakulu should not bring kids or aged people along with them for service. If so they will be rejected for service.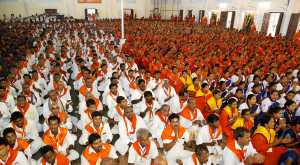 If you want more Details check here-TTD Voluntary Services.
Latest Updates From General Instructions For Srivari Sevaks
The choice of area of selection for Srivari Sevakulu booking in on-line to render services to fellow pilgrims will be opened on April 25th, 2018 by 11:00 AM. The sevakulu who register in on-line Srivari seva will commence their services in their choosen area from May 4th, 2018 onwards.
Only Hindus should apply for General, Parakamani and Laddu Prasada sevas.
Sevaks working in Private/Govt. sector, with computer knowledge can apply for Laddu Prasadam seva by uploading their Employee ID/Aadhra Proof.
Sevaks working in Private sector are not eligible for Parakamani seva.
Sevaks can apply for General/Parakamani and Laddu Prasada sevas 8 days prior to the Seva date.
Sevaks will not be allowed to book General/Parakamani/Laddu Prasada Sevas within 90 days from the last seva performance date
To avail General, Parakamani, Laddu Prasada Sevas, candidates have to register through on-line srivariseva.tirumala.org.
Age limit for applying, in General seva (as individual or group ) is 25-50 years for 3 days, 4 days period in online and 18-60 years for 7 days offline seva
The age limit for Laddu Parasda seva is 18-65 years and the age limit for Parakamani seva is 35-65 years for Sevakulu working in Public Sector Institutions and 35years to 60 years for private sector bank employees.
In Profile, the details of the date of birth, Mobile number, ID proof type, ID proof number and sector information of Sevak cannot be modified once submitted.
The Accommodation for Laddu Prasada Sevakulu has been shifted from Rambhageecha Rest House to Laddu Prasada Seva Hall located adjacent to Srivari Seva Sadan inside RTC bus stand from 15-06-2016 onwards. This is for your information.
The Accommodation for Parakamani Sevakulu has been shifted to Parakamani Seva Sadanam Located Opposite to Sri Varaha Swamy Rest House in Tirumala.
The number of registrations of Parakamani Sevakulu has been increased from existing 120 members to 250 members per day in two batches and it will be commenced from 01.03.2014.
The Parakamani Sevakulu will render their Parakamani Seva both in Tirumala as well as in Tirupati (for cut notes / soiled Parakamani / foreign Currency) as per the requirement of the Deputy Executive Officer (Parakamani).
Devotees should register with Srivari Seva portal for applying in General, Parakamani and Laddu Prasada Sevas.
Srivari Sevaks can cancel their confirmed seva services of Parakamani / Laddu Prasada Seva in seva history or in Apply Parakamani / Laddu Prasada Seva.
Important Instructions (Note) For Srivari Sevaks
Srivari Sevakulu are expected to maintain high standards of honesty, integrity, confidentiality, impartiality, and good conduct in the course of, or in relation to their Seva.
Srivari Sevakulu shall not harass / argue / fight with other sevakulu, TTD Employees or pilgrims.
They are expected to be courteous, considerate and prompt while reporting for Seva.
The sevakulu must abide to all applicable rules and regulations issued by the TTD from time to time.
They must comply with any lawful regulations, orders, policies, and appropriate requests issued by the On-duty supervisor or other TTD officials having jurisdiction over the Seva involved.
Also Check- Srivari Seva General Instruction Details