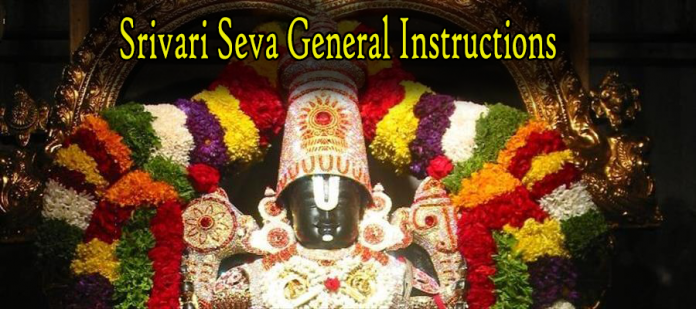 Tirumala Tirupati, the abode of Lord Venkateswara, is visited by millions of ardent devotees every year. With a view to render better service to these pilgrims who come from far-flung parts of the country, Tirumala Tirupati Devasthanams has launched 'Sri Vari Seva'.
        The Seva provides a unique opportunity to the devotees to serve fellow pilgrims and participate in devout service aimed at inculcating a sense of fellow-feeling and a spirit of service. According to the scriptures, the divine grace can be attained not only by worshipping the Lord in the sanctum sanctorum but also by serving His devotees. Thus, the 'Srivari Seva' ensures the added benefit of serving Lord Srinivasa through selfless service to His devotees.
Apply Process
The choice of area of selection for Srivari Sevakulu booking in on-line to render services to fellow pilgrims will be opened on April 25th, 2018 by 11:00 AM. The sevakulu who register in on-line Srivari seva will commence their services in their choosen area from May 4th, 2018 onwards.
All members of the team must belong to the Hindu religion for applying General Srivari seva
To avail Srivari Seva service , candidates have to register themselves online through Srivari Seva website srivariseva.tirumala.org.
Candidates should have aadhar card proof and mobile number which should be kept active till the declaration of results.
It will help him/her in getting approval of seva period by sms.
Candidates should provide their aadhar/Valid ID proof details.
For new registration, candidates have to visit TTD Seva Online website ttdsevaonline.com .
In New User enter mobile number and password, a provisional Verification code will be generated by the system and send to your mobile number.
User will be able to proceed to Login only on successful verification of his/her mobile number.
After logging in with valid mobile number and password, their profile will be displayed on "Profile" screen . If you want to lead the team then check on 'Apply for team lead' check box in "Sevakulu – Team Details" screen by navigating through srivari seva general instructions.
For enrolling your team members select on 'Team Details' then select Add New sevak. If you want to add existing member then select 'Add Existing Sevak'.
After adding sevaks to team, sevak status is automatically displayed in 'Unavailable' status in "View Sevaks", then team leader will choose Available or Unavailable.
For applying period of seva select on 'Apply for seva' then choose period (3, 4 and 7 days) and date of slot.
Age limit for applying (as Individual or group) 3 days , 4 days period seva is 25 to 50 years and for 7 days period seva is 18 to 60 years.
Only team lead can Add/update his team members detials.
On successful completion of the application,sevaks details will be generated in Seva History, which may be printed for record (Print option is provide only for team lead).
If you want to change password then select on 'Change Password'.
For More Details on Apply Step By Step Process then Visit here – TTD Online Seva Tickets Booking Step by Step Process.
Also Check-TTD General Instructions