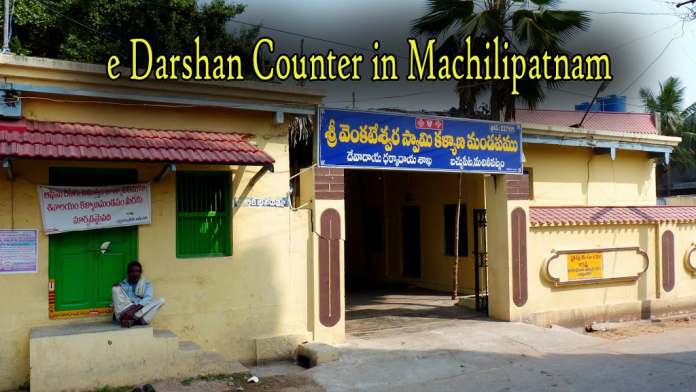 TTD e Darshan Counter Working Hours in Machilipatnam
Day   
  Morning
  Afternoon

Monday

09:00 am – 01:00 pm

02:00 pm – 06:00 pm

Wednesday

09:00 am – 01:00 pm

02:00 pm – 06:00 pm

Thursday

09:00 am – 01:00 pm

02:00 pm – 06:00 pm

Friday

09:00 am – 01:00 pm

02:00 pm – 06:00 pm

Saturday

09:00 am – 01:00 pm

02:00 pm – 06:00 pm

Sunday

 

09:00 am – 01:00 pm

02:00 pm – 06:00 pm
Note  – Every Tuesday Closed.
TTD e Darshan Counter Services
Seva tickets will be released As per the ttd official Announcements at TTD counters.
One has to visit counter in person to book Seva tickets.
One Seva ticket will be issued per person as they are limited.
Electronic Dip System seva tickets will not issue in e Darshan counters visit  ttdsevaonline.com
Special Darshan tickets (Rs.300) will be issued 90 days in advance at the counter. One can visit in person to book Rs.300 Darshan tickets for the whole family.
One can book one room in advance at the counter as wells. Rooms can be booked 90 days in advance over the counter.
Devotees reach counter in the evening hours to avail Seva tickets on the next day morning. Suprabhatha Seva will be issued daily.
As this quota is released across India so the first 3 persons will only get the chance for Suprabhatha Seva or other Major Seva tickets.
Poorabhishekam and Tiruppavada will be released for booking at the counters as well.
TTD e Darshan Counter Address & Contact Details
TTD Kalyana Mandapam,
Near Bus Stand, Machilipatnam,
District-Krishna,
State-Andhra Pradesh.
Map Directions for TTD e Darshan Counter Machilipatnam
Required ID proofs
PAN Card / Voter ID / Aadhaar Card/ Driving ID/ Passport /Ration Card/ School ID/ College ID.
Children under 12 years don't need Seva or Darshan tickets.
It is free entry for them.
Advance booking is allowed 60 days in advance.
Rooms and e-Special Darshan tickets can be booked at Counters.
Additional Information
And also check – List Of TTD E-Darshan Counters In India