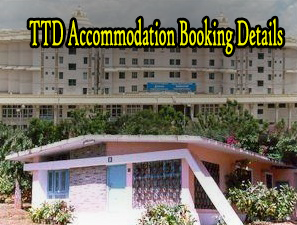 Tirupati Tirumala Devasthanam (T.T.D) has provided a portal to book TTD Online Rooms /
Accommodation booking, Darshan , TTD Seva Tickets booking , Online Donation , e-Hundi
for the convenience of pilgrims visiting Tirupati and Tirumala .
Tirupati Tirumala Devasthanam (T.T.D) ensures to provide good, hygiene and comfortable
accommodation / Stay to all pilgrims visiting Tirupati and Tirumala .It has provided various accommodation options for pilgrims.
1. Free Accommodation – Contact Central Reservation Office (C.R.O) for free accommodation in Tirumala.
2. Paid Accommodation
–Advance Booking
— On Arrival
Various Mutt's are available in Tirumala who provide accommodation for the pilgrims on
arrival subject to availability and according to Mutt rules. Online booking is not available for
such mutts.
You can now book thirumala thirupathi devasthanam accommodation online at
https://ttdsevaonline.com
To avail TTD accommodation min. 2 persons are required. Accommodation wont be provided to single person.
Availing rooms in Tirumala – Carry a printout of your booking to CRO office.
They will give you an accommodation slip which will contain the details of Guest house. Reach the sub-enquiry office of the respective guest house to take the keys.
Availing rooms in Tirupati – Carry a printout of your booking to your respective
guesthouse , contact the sub-enquiry office to get the keys.
Finger prints will be taken from the pilgrim before allocating the room.
If a pilgrim fails to avail the accommodation with in time , the booking will not be
considered further.
Caution deposit can be collected from the Caution deposit counters at the respective
guest houses. Caution deposit will be refunded only to the pilgrim (primary pilgrim) who
had submitted the finger prints during availing the room.
And also check – Accommodation