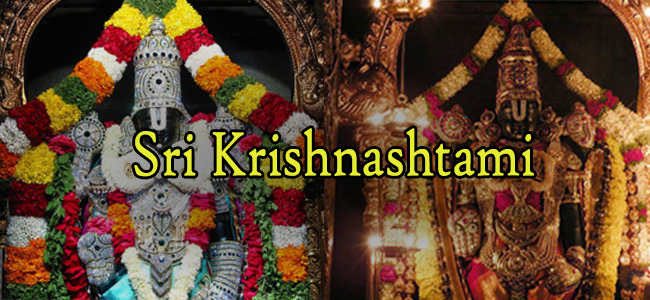 There will be Tirumanjanam for Lord Sri Krishna at the Golden Entrance after Tomala Seva
on Sri krishnashtami. At the same time, dvadasha tiruvaradhana (12 kinds of worship) is
offered to Ugra Srinivasa Murthy placed on another pedestal with Sri Devi and Bhu Devi.
These abhishekas are performed in solitude. Ugra Srinivasa Murthy is later taken into
Ananda Nilayam, while Asthanam is held for Sri Krishna Swami. After offering food to
Balakrishna in sleeping posture, Akshataropanam is done. Later, the story of Sri Krishna's birth is recitecd from Srimad Bhagavatam. The Asthanam ends with harathi.
The next day in the early hours Bala krishna is taken in procession and anointed
(tailakapu). The oil is distributed to the devotees who anoint their heads with it and take
auspicious bath.
In the afternoon there is utla utsavam (sling ceremony) as Sri Krishna with butter in hand
goes in procession in a separate palanquin besides Sri Malayappa Swami. The festivities of
breaking the milk and butter pots in the sling are carried out on a grand scale in Tirumala at every step. They come to an end as the Lord enters the temple.