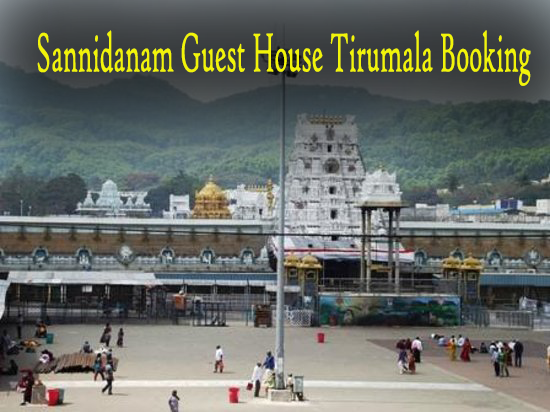 Sannidanam Guest House Tirumala
Sannidanam Guest House Tirumala Booking procedure
No.of Rooms –  48
Rooms Tariff per day – Rs.6000
Rooms allotment for Sannidanam Guest House Tirumala will be done at Sri Padmavathi Guest House Allotment counter.
Room Types
1. Four bed in a room Room Facilities.
1. 24 hours Electricity.
2. 24 hours Water.
3. Geyser facility.
4. Good ventilation
How to reach Sri Padmavathi Guest House Allotment counter?
1. It takes 20 mins by walk to SPGH Allotment counter from C.R.O Office Tirumala, which is next to Tirumala Bus station.
2. SPGH Room allotment Counter will be available for 24 hours.
3. From SPGH Room allotment counter, it takes 5 mins walk to this Guest House.
Room check-in policy
1. It is 24 hours rooms policy, 24 hours from the time of check-in.
2. One day room extension will be provided at SPGH room allotment counter
3. Anything beyond two days, room tariff will be doubled. This is to avoid misuse.
E-Darshan Counters
Nearly 1,00,000 pilgrims are visiting daily to have darshan of Lord Venkateswara. To reduce the waiting time in the queue lines TTD has introduced e-Darshan facility where in the pilgrim is provided with Darshan slot remotely before actually the pilgrim reach Tirumala. This system was started with token system and replaced with Biometric system which is now under operation. These e-darshan counters were established in most of the TTD Kalyanamandapams and Information Centres in all most all parts of Andhra Pradesh and outside Andhra Pradesh. Pilgrims are permitted to enter the Vaikuntam Queue Complex-I, according to the time slot provided to them.