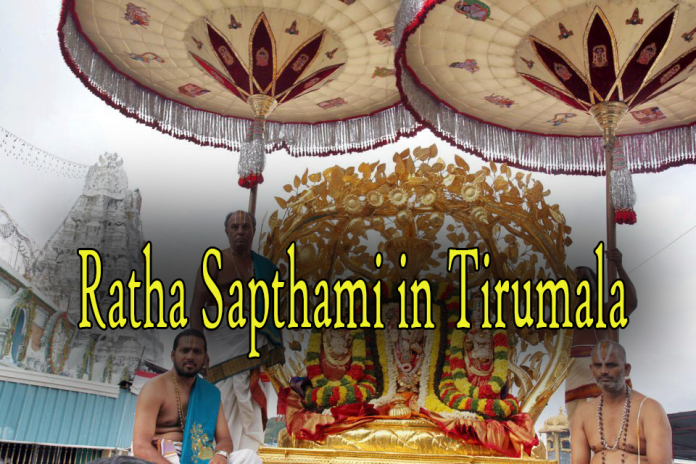 There will be an Utsava every year on Magha Shuddha Saptami (7 day of Magha month according to Telugu Calendar), i.e. Ratha Sapthami.
Sri Malayappa Swami will stroll into the city streets on as many as seven carriages, such as
Suryaprabha Vahana, Chinna Shesha Vahana,Garuda Vahana, Sarvabhupala Vahana and Chandraprabha Vahana.
The 'utsavams' will be specially and traditionally celebrated on the occasion of 'Surya Jayanti' or 'Rathasapthami in Tirumala, the 'Kaliyugavaikunta.' Since the dawn of the Sun till the dawn of the Moon, Lord of Tirumala has been taking His procession radiantly and gloriously in all seven magnificent vahanas offering a brilliant eye-feast to the devotees.
There will be chakra snana (ablutions to the disc) in the afternoon. Ratha Sapthami festivities are called Artha Brahmotsavas or Brahmotsavas of the past.
Surya Jayanti = RathaSapthami
The direct and visible deity is Lord Suryanarayana. He transmits direct, bright and healthy rays on all the domains of the world in order to create and strengthen activity to survive the existence of the world. The day on which Lord Suryanarayana had his origination is traditionally called 'Surya Jayanthi' or 'Rathasapthami and it was marked as a festive day with pomp and splendour.