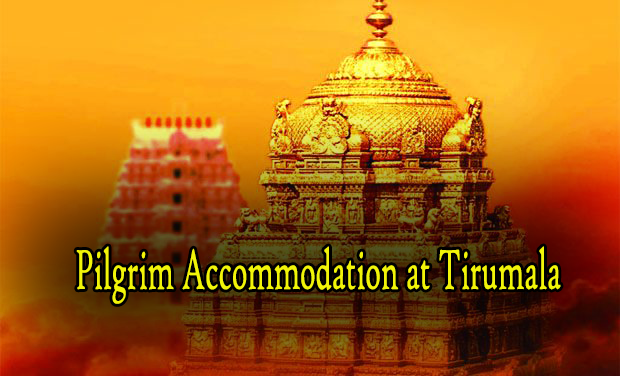 Devotees Can Reserve Accommodation At Tirumala in Three Ways
(1) Advance reservation at TTD lnformation Centres located in various places of the country and  in the District head quarters.
(2) By sending Demand Draft
(3) By Internet i.e TTD Official Page
ADVANCE RESERVATION AT  TTD INFORMATION CENTRES
Devotees can reserve accommodation in advance at all TTD Information Centres located in :strict head quarters in the state including Vijayawada and Rajahmundry at least 30 days in advance. They can also book advance accommodation at Chennai, Bangalore, Bhubaneswar, Pondicherry, Mumbai and Vellore, Devotees have to pay Rs,100/- to reserve the Accommodation. Availability of accommodation by advance booking is displayed prominently at all TTD Information Centres.  Once the accommodation is reserved a slip will be given to them. Devotees have to show  the slip  at ARP Counter, Central Reception Office, TTD, Tirumala. They will be provided with accommodation 5 RBGH, Varahaswamy Ghest House, Sapthagiri Guest House etc .
ADVANCE BOOKING BY SENDING DDs
Devotees can also send Rs. 100/- by Demand Draft or Money Order in favour of Executive Officer, TTD, Tirupati and send it to the Asst. Executive Officer (Reception), TTD, Tirumala – 517 504 atleast one month in advance. The confirmation slip will be sent by post to the party. The devotees are requested to give one or two alternative dates if there is non-availability of accommodation  on the date requested by them. The devotees have to show the confirmation slip at the ARP Counter, Central Reception Office, 1TD, Tirumala In case, devotees have sent the DO but did not get the cottage allotment letter in time they are requested to contact AEO (Reception), TTD, Tirumala, Phone No. 0877 – 2277681. In case the confirmation slip is lost or forgotten, a proof of their cottage allotment or DD may be shown at the counter for cottage allotment.
INTERNET BOOKING
The devotees can log on TTD Official Page to and go for accommodation. They can select the date and type of accommodation required. The money can be paid by credit card. Credit cards, which are having Citi Bank gateway only are accepted. Devotees can choose Rs. 100/- tariff cottage and Rs. 750/- tariff cottage. Once the money is collected, official receipt will be generated. The devotees have to get the printed receipt. They have to show the receipt as well as proof of identity at the Internet Counter located at Sri Padmavathi Guest House Sub-enquiry, Tirumala. They will be given original cottage allotment slip.