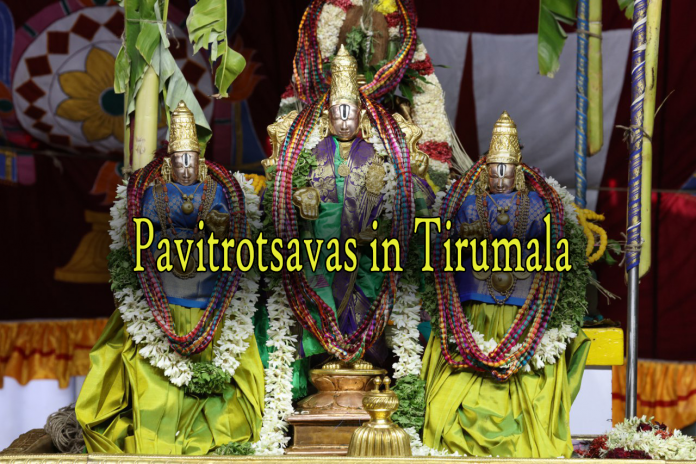 As per the Vedic tradition, one is not supposed to enter the temple with jatashoucham
(impurity due to birth of offspring) and mrithashoucham (impurity due to death of close
relatives). But sometimes, this rule is violated knowingly or unknowingly by the tourists and staff. Purification ceremony that takes place in order to dispel the evil of such lapses is
called Pavitrotsavas at Tirumala. It is different from the general purificatory programmes
like temple cleansing or punyahavachanam (purification through mantra).
There is evidence to suggest that Pavitrotsavas were conducted till 15-16 centuries in
Tirumala. It stopped abruptly later. The temple has restored the practice since 1962. It
takes place for three days. It takes place every year in the Kalyana Mantapa during Shravana shuddha dashami, ekadashi and dwadashi.
Devotees can participate in this seva on payment of required fees. The participants will be
purged of the offences committed against the gods knowingly or unknowingly by any of
their progeny. Peace and prosperity prevail in their lives.