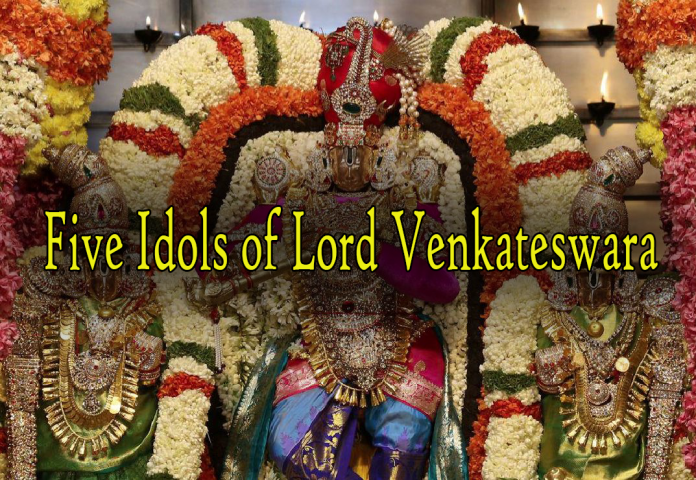 The devotees continuously stream to Tirumala hills for a glimpse of the Lord who is like gold in the fist. Some choose to participate in the early morning 'Waking up Service' (Suprabhata Seva) of the Lord, offer worship (archana) and naivedyam (food). Some participate in the daily ritual of Lord's marriage to witness the glory. Some participate in Poolangi Seva (Garlanding Service) and Tiruppavada Seva (offering of huge heaps of tamarind rice and other prasadas to the main deity as aveil between the deity and the devotees on Thursday), while some others participate in Abhisheka Darshan (ablutions) of the Lord on Friday and go into raptures. Thus devotees participate inkalyaanotsavas, Brahmotsavas, Vasanthotsavas and other ceremonies to receive the grace of theLord.
In this context, the devotees, however, get a genuine doubt. Is the deity of Lord Srinivasa the same in all these utsavas or different? If different, how many deities are there? How distinctly are the services offered to each of them? Let us look into the details to dispel these doubts, to some extent.
The self-manifested deity of Lord Sri Venkateshwara in Tirumala shrine receives rituals of worship and offerings as per the most ancient Vaikhanasa Agama. Devotees attribute to God whatever is relevant to them and follow a prescribed method of worship (Upasana). That is why, we conduct services of bathing (abhishekam), worship (archana), feeding (naivedyam), procession (ooregimpu), going to bed (Panpu seva), etc. to God. Since the presiding deity is stationary, it is not possible for us to offer all the services, especially taking it in a procession or laying it in bed. Hence, the Agama science has allowed five kinds deities (Pancha Berams) for this purpose. They are,
1. Dhruva Beram – (Presiding Deity).
2. Kautuka Beram – (Sri Bhoga Srinivasa Murthy used for daily worship).
3. Snapana Beram – (Sri Ugra Srinivasa Murthy used for ablutions).
4. Bali Beram – (Sri Koluvu Srinivasa Murthy, the supervising deity for offering oblation to the secondary gods and goddesses of the temple).
5. Utsava Beram – (Sri Malayappa Swamy, the Processional Deity).
Beram means an idol or deity. The five-idol system of the Vaikhanasa Agama is followed in
Tirumala shrine. Utsavas are performed for different idols here.
Besides the above idols, there are many other idols in the Ananda Nilayam such as (i) Sri
Sudarshana Chakrattalwar, (ii) Sri Sita, Rama and Laxmana, (iii) Sri Rukmini and Sri Krishna, (iv) the retinue of Sri Venkateshwara Swamy such as (a)Anantha, (b)Vishwaksena (c)Garuthmantha, and (v) the retinue of Sri Rama, viz – (a)Sugreeva, (b)Angada, (c)Ajnapalaka Anjaneya Swami, etc. A few utsavas are conducted for these idols also. Thus, utsavas and sevas are held for Lord Sri Venkateshwara along with the above deities on specified days on a grand scale.