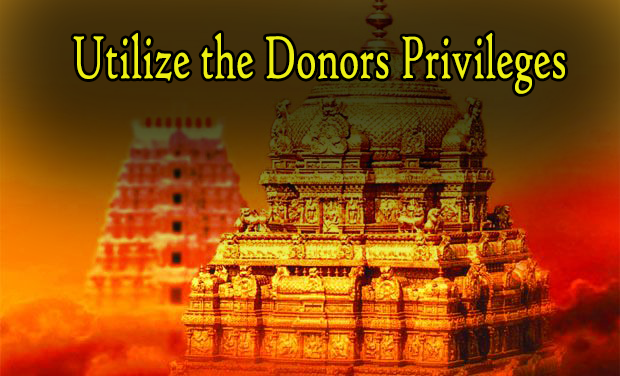 A Donor pass book will be issued to the donors who donates Rs.1 lakh and above. The donors can utilize their privileges as per their eligibility by showing their donor pass book at Donor Cell office, C.R.O.Building, TTD, Tirumala with prior intimation i.e., 20 days before.
IMPORTANT POINTS TO REMEMBER WHILE DONATING TO THE SCHEME
The Pass Book and Income Tax exemption certificate will be issued in the name of Donor only.
The presence of the Donor shall be made compulsory for the Darshan along with four (4) other members.
The Donor and their family members will be allowed for Darshan only on production of the IDENTITY PROOFS.
Further, every year the donor has to send the life certificate to the Donor Cell, Tirumala in their own interest for the continuation of the previlage and not to face inconvenience while visiting Tirumala.
In any case, if the donor is not in a position to attend Darshan and collect Prasadams / Bahumanams, he/she shall send the life certificate and authorisation letter with specimen signatures of the persons to whom the Darshan is to be provided and Prasadams / Bahumanams has to be given well in advance to the Donor cell, Tirumala.
The Donor has to take prior permission from the Donor Cell, Tirumala in this regard.
The Change of names of enrolled members other than the main donor, on verification shall be permitted for not exceeding three(3)times in the privileged period with the approval of the Executive Officer, TTD.
TTD reserves the right to change or alter any of the above terms and conditions at any time without assigning any reasons thereof.
And also check – PRIVILEGES FOR THE DONOR