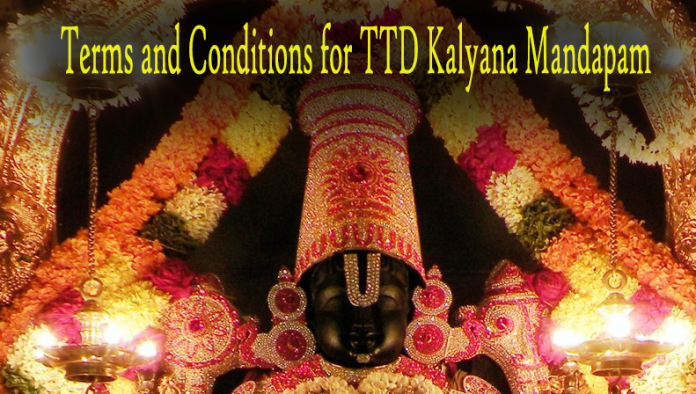 TTD Kalyana Mandapam Online Booking, Rent and Location
Marriage Hall allotment Timings: Today 3:00 pm – 3:00 pm Next day.
Terms and Conditions for TTD Kalyana Mandapam
1. Bride and Bridegroom must be Hindus.
2. The bride must be 18 years and above as on date of marriage.
3. The Bride Groom must be 21 years and above as on date of marriage.
4. Only Arranged marriages.
5. Parents must present at the time of Marriage.
6. Relatives can perform the marriage on behalf of their parents.
7. Required Documents for Booking the Hall: Aadhar Card and School Certificate Photocopy from Bride and Groom. Parents/ Relatives Aadhaar Card is a must while blocking the Hall.
8. Please carry original Documents as well for Mandapam booking.
9. 90 days advance booking required for Hall Booking.
10.One must pay the full rent at the time of Kalyana Mandapam booking.
TTD Kalyana Mandapam
1. Only Hall with Electricity and Water will be provided.
2. Food/ Decoration/ Seating arrangements are not part of the Hall Booking.
3. One room for Bride and One room for Groom will be allotted.
4. Any additional rooms attract additional cots.
5. At the time of Hall allotment, one must display the original booking receipt along with original documents.
6. Music can be played low in the marriage halls.
7. Marriage Registration is not part of the Marriage Hall Booking.
8. Only Marriage receipt will be issued at the hall which can act as the proof of marriage. Registration has to be performed separately by showing the receipt and original documents.
9. TTD is not responsible for your personal belongings.
10. Any damage in the hall will be charged.
11. Hall Once booked can't be preponed or postponed. The amount will not be refunded.
Marriage Halls are located in Andhra Pradesh, Telangana, Karnataka and Tamil Nadu states. One has to check the hall availability before making the payments. Online Booking is not available for these marriage Halls.
And also check – Full Details of TTD Kalyana Mandapams