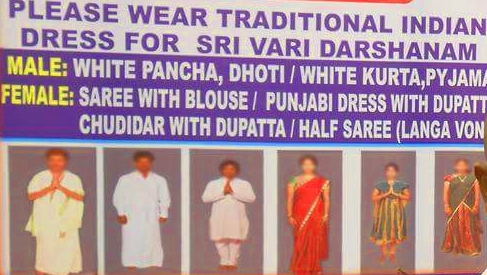 Follow some instructions dress code before enter the temple
Traditional outfits are permitted. Ordinary pants is permitted. Just for Sarva Darshan and Divya Darshan there is no confinement to clothing regulation. Any outfit is permitted yet for Sri Venkateswara Darshan one should design in a good outfit.
Strict Dress code applies just for Seva tickets and Break Darshan tickets.
Dress Code for Break Darshan
Clothing standard" for VIP travelers who need to have the break darshan of Lord Venkateswara toward the beginning of the day and night ought to take after Dress Code.
A lady fan can wear saree or a chudidar with chunni, while a male aficionado can wear dhoti or lungi with uttareeyam or kurta-pajama. "A straightforward shirt and pants are likewise permitted, yet men should wear dhoti and uttariyam.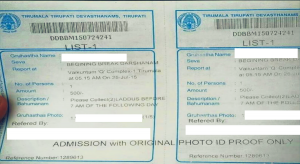 What's more, if any lover neglects to take after the clothing standard, he or she will be encouraged to change the dress before entering Queue Complex.
Dress Code for Arjitha Sevas
For Kalyanam and different sevas the Dhoti and Uthareeyam for men and Saree or a chudidar with chunni for ladies is compulsory.
Same applies even to the foreign devotees and they should cover their body before entering the Queue complex.
Not permitted : Bermudas, T-shirts, pants, shorts any western outfit uncovering body parts isn't allowed.
Men: White Pancha, Dhoti/ White Kurta,Pyjama.
Female: Saree with blouse/ Punjabi Dress with Dupatta / Chudidhar with Dupatta/ Half saree.