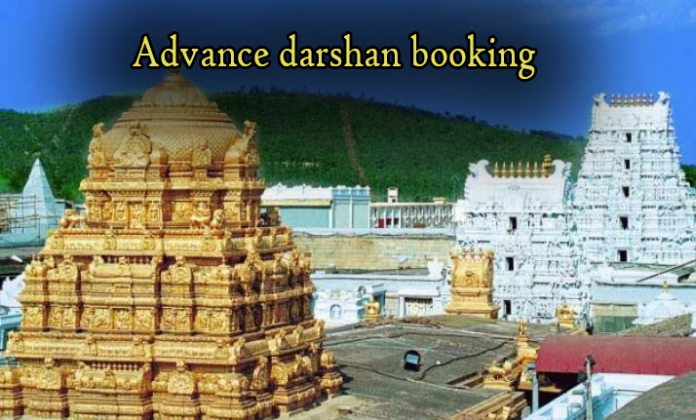 e Darshan Seva Darshan Tickets Accommodation Booking procedure Seva tickets will be released 60 days in advance at TTD counters for booking. One has to visit counter in person to book Seva tickets. One Seva ticket will be issued per person as they are limited.
1. Suprabhatha Seva
2. Nijapada Darshanam
3. Tiiruppavada Seva
4. Poorabhishekam
5. Archana Seva
6. Thomala Seva
7. Sahasra Deepalankara Seva
8. Visesha Pooja
9. Arjitha Brahmotsavam
10. Vasanthotsavam
11. Unjal Seva
Monday          9:00 am – 12:30 pm 2:30 pm – 5:00 pm
Wednesday     9:00 am – 12:30 pm 2:30 pm – 5:00 pm
Friday            9:00 am – 12:30 pm 2:30 pm – 5:00 pm
Saturday        9:00 am – 12:30 pm 2:30 pm – 6:00 pm
Sunday          9:00 am – 12:30 pm 2:30 pm – 6:00 pm
Note : e-Darshan counter remains closed on Tuesday
Special Darshan tickets (Rs.300) will be issued 90 days in advance at the counter. One can visit in person to book Rs.300 Darshan tickets for the whole family.
One can book one room in advance at the counter as wells. Rooms can be booked 90 days in advance over the counter.
Devotees reach counter in the evening hours to avail Seva tickets on the next day morning.
Suprabhatha Seva will be issued daily. As this quota is released across India so the first 3 persons will only get the chance for Suprabhatha Seva or other Major Seva tickets.
Poorabhishekam and Tiruppavada will be released for booking at the counters as well.
Please carry any of these ID cards for booking: Aadhaar Card, Electoral Card, PAN Card, Driving License, Ration Card, Passport. Children under 12 years don't need Seva or Darshan tickets as it is free entry for them.