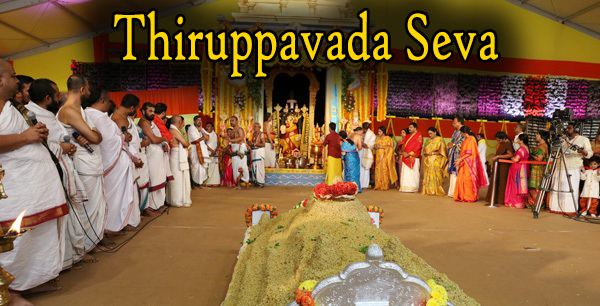 The priests of the TTD performed the 'Thiruppavada Seva', also known as 'Annakutotsavam', on the sixth day of the ongoing nine-day Sri Venkateswara Swamy Vaibhavotsavams at the ACSR Stadium here on Thursday.
Thiruppavada Seva Details
Every Thursday, after the morning pooja, the Mula Virat is divested of all ornaments, flowers etc. The deity will be draped only in Dhoti and Uttareeyam. The Thirunaman Kaappu and Kasturi on the forehead of the main deity are also reduced in size.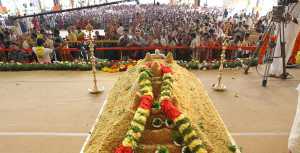 A large rectangular tub – like golden vessel is placed in the Mantapam and a huge quantity of "Pulihora"-tamarind rice, along with other sweet preparations such as payasam, laddu, jilebi, thenthola, appam etc and other delicacies are deposited thereon with coconuts, flowers, sandal paste, kumkum, deepam and is placed in that trapezoid receptacle to be offered as naivedya to the Lord.On Thursdays Thiruppavada Seva is performed as arjitha Seva in the Mantapam in front of the Bangaru Vakili and Annakutotsavam (where heaps of tamarind rice is poured) is performed.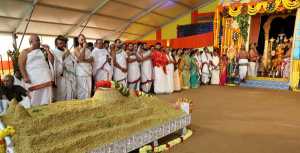 When this happens, it is believed that the Lord's first gaze after "opening" His Eyes (because they were covered by the Naamam earlier) should not fall on mortals, because it has huge power that could not be withstand by humans. Instead, it is made to fall on the mound of "Pulihora" directly in front of Him, thereby sanctifying it and reducing the intensity of His Gaze. The "Pulihora" therefore acts like a Veil ("Paavada" in Telugu/Tamil) protecting devotees from His Powerful Gaze.
Gathering Point
Devotees should gather at VQC-I.
Timings
Seva Performed Only on Thursday.
For Reporting Time – 05:00 AM.
Tiruppavada Seva will start at 06:00 AM– 07:00 AM.
Ticket Cost for Tiruppavada Seva
The cost of Tiruppavada Seva Ticket is Rs. 850/-.
It is one ticket per person.
To carry ticket along with photo, ID proof.
Online Ticket Booking for Tiruppavada Seva
The recommendation letters should submit the day before at JEO office by 12:00 PM.
It is approved then you will get the message to the registered mobile number.
In this Tiruppavada Seva will perform only on Thursday and will not observe when special occasion as Pavitrotsava, Brahmotsavam and more take place.
Book Tiruppavada Seva Tickets Online for ttdsevaonline com
For any info required on Thiruppavada Seva, please leave your comments below. We will get back to you at the earliest.