One must take after Tirumala Seva clothing regulation while making arrangements for Special Darshan and All Arjitha sevas at Tirumala. The TTD message is clear. The dress worn by explorer ought to be a "fair outfit" before he/she enters the sanctuary for Lord Sri Venkateswara darshan.
Traditional dress are allowed. Normal trousers & Shirt is allowed. Only for Sarva Darshan and Divya Darshan there is no restriction to dress code. Any outfit is allowed but for Sri Venkateswara Darshan one should plan in a decent outfit.
Men: White Pancha, Dhoti/ White Kurta, Pyjama.
Female: Saree or half-saree with blouse/ Punjabi 

Dress

 with Dupatta / Chudidhar with Dupatta.
Seva Dress Code for Break Darshan
Clothing standard" for VIP devotees who need to have the break darshan of Lord Venkateswara early in the day and night ought to take after Dress Code.
Ladies can wear saree or a chudidar with chunni, while a male aficionado can wear dhoti or lungi with uttareeyam or kurta-pajama. "A basic shirt and pants are likewise permitted, yet men should wear dhoti and uttariyam.
Furthermore, if any devotee neglects to take after the dress code, he or she will be encouraged to change the dress before entering Queue Complex.
Dress Code for All Arjitha Sevas
Kalyanam and different sevas the Dhoti and Uthareeyam for men and Saree or a chudidar with chunni for ladies is compulsory.
Not allowed : Bermudas, T-shirts, pants, shorts any western outfit uncovering body parts isn't allowed.
Same applies even to the outside foreign devotees and they should cover their body before entering the Queue complex.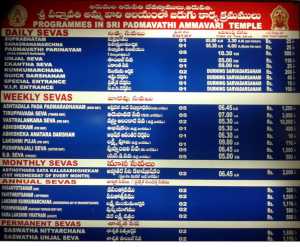 For bookings
Tirumala Tirupati Devasthanam (T.T.D) provides an online platform to book seva tickets online at ttdsevaonline website