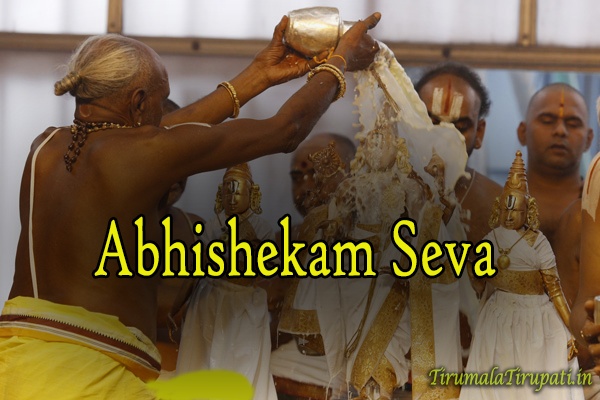 Abishekam is a sanskrit word for the celestial bath that is performed to the main presiding
deity in any Hindu temple. As per tradition, in Tirumala, this is performed on the pre-dawn
of every Friday.
Every Friday after Suprabhatha Seva, the regular Thomala and Archana Sevas are done in privacy and then Srivari Abhishekam is observed. This happens to be the most ancient Arjitha Seva that is being observed in the hill shrine of Lord Venkateswara. The Abhishekam starts with Sacred water brought from Akasa Ganga Theertham, then with Milk, then with Suddhodakam, Chandanam and other scented articles like powdered Pachcha Karpooram, Saffron paste and drops of civet oil etc., which are brought earlier in the silver vessels. While performing the Abhishekam to the Moola Virat, Purshasukta, Narayanasukta, Srisukta, Bhusuktha, Neelasuktha and selected Pasurams from the Divya Pradbandham are all recited by the priests.
It will be performed from morning 3 AM which may long upto 2 hours. A team of 4-5 priests will perform the Abhishekam based on Vaikhanasa Agama.
The abhishekam is performed by priests with water (brought from Akasaganga teertham),
milk, curd, ghee, coconut water, honey, punugu thailam, turmeric, sandal paste etc.
Pancha Suktam – Purusha Suktam, Sri Suktam, Bhoo Suktam, Nila Suktam, and Santhi
Vachanam will be recited during abhishekam by priests.
Gathering Point
Devotees should gather at Supadham.
Timings
Abhishekam Seva will be performed from 04:30 – 06:00 AM. Devotees should gather one hour before the Seva time at Supadham.
Abhishekam Seva will be performed only on Friday.
Dress Code for Abhishekam Seva
A Male devotee can wear dhoti or lungi with uttareeyam or kurta-pyjama.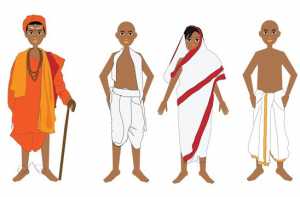 A Woman devotee can wear saree or a chudidar with chunni.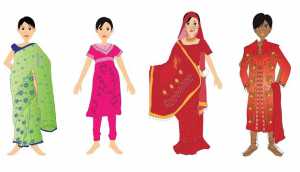 Book AAbhishekam Seva Tickets Online.
For any info required on Abhishekam Seva, please leave your comments below. We will get back to you at the earliest.